Journalist Jenny Yuen lands a very steamy assignment: covering a firefighter calendar competition. Her personal favorite? Mr. February. Also known as Scott Jackman. Also known as hot, hotter, hottest!
Read all about it: the sexy rookie is the man of Jenny's wildest fantasies. Who cares that he's a white guy—a total taboo for her traditional Chinese family. It's not like her folks will ever find out about him because, after all, he's just a sexy secret fling.
She and Scott are going to play by her Fantasy Rules: they'll act out each other's wildest fantasies. The only thing they can't do is fall for each other, because then her life would get really, really complicated.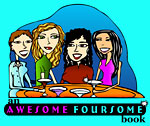 The Awesome Foursome Series
1. Champagne Rules
2. Hot in Here
3. Touch Me
4. She's on Top
Join four 20-something girlfriends who laugh, cry, bond — and each find a very sexy romance.
The Awesome Foursome have their own martini! Want the recipe?
The Awesome Foursome series is set in Vancouver, BC. Explore the Foursome's Vancouver in Susan's article, Awesome Vancouver.
The Foursome receives an A+ series review from The Good, The Bad, The Unread reviewer, limecello:
"Ever finish a book, where after you bask in the afterglow of the ending, you want to jump up and make everyone you know read it? If you haven't, or are looking for more, have I got four (yes four) suggestions for you! The books Susan Lyons writes are sexy, smart, and have real humanity. I read each of the Awesome Foursome books in 1-2 sittings, staying up til 4 AM to finish them. . . My only complaint about the series is I wish it were longer. . . There's so much to each story a simple review doesn't do it justice, there's a depth and complexity to Ms. Lyons' writing that few authors achieve with such effortless and engaging prose."