Sexy romance that's passionate, heartwarming, and fun!
January 15, 2018
Yes, it's 2018! Can you believe it? I hope you had a lovely holiday season, and that your new year is off to a great start.
We've been spending the time in southern California in our motor home, Rex, thoroughly enjoying the warmth and sunshine while back home our friends suffer through rain, snow, chilly temperatures, and heavy winter clothing. I've been posting photos on my Facebook page, if you want to track my travels and activities.
We've been going for lots of long walks and doing tourist stuff—and taking photos. I got a new camera! It's a Nikon d3400, and the terrific 18-200mm lens from my old Nikon fits it perfectly. So I'm having fun, and suffering some frustration as well, learning the ins and outs of the new camera.
Of course I've also been working on my Blue Moon Harbor series. With Come Home With Me coming out on December 26, I had a bunch of guest blogs and interviews. Thank you to everyone who bought that book, posted reviews, mentioned it on social media, and/or told their friends. I'm really hoping Kensington will contract for more titles in the series, and of course a publisher's prime determining factor is sales of the previous books.
In mid-December, I got my editor's notes for the next book, Sail Away With Me, and that kept me pretty busy through Christmas and New Year's. But I've also managed to make some progress on the book after that, the one I'm hoping Kensington will buy, which is tentatively titled Come Dance With Me. I have a lot of heroines and heroes "dancing" around in my head these days!
Congratulations to all the people who won autographed books through guest blogs and Goodreads giveaways this past month – and to Cheryl P from PA, who won my website opinion poll contest. Her prize is an autographed book and some Desert Tea and Prickly Pear candy I bought in Death Valley. Another contest is running and you could win an autographed book plus Dresdner Essenz bath salts.
Susan
Events
Check out the Events page for more info about Susan's activities, and photos from past events.
Newsletter, give-aways and discussion questions
Sign up for my free monthly newsletter The Champagne News on the Contact page.
If you'd like a bookplate and/or bookmark for any of my books, fill out the contact form on the Contact page and I'll be happy to send them along.
Promotional items for bookstores, conferences, writing groups, book clubs and libraries are also available (flyers, bookmarks, autographed cover flats, bookplates).
Discussion (or personal reflection) guides are available in downloadable format for all my books. Check the Discussion Guide page for each book.
Having trouble finding my books?
If you can't find my books in your "bricks and mortar" store, don't forget, you can order online from a variety of sources. I've included purchase links for several stores, including Independent Booksellers. If a new book hasn't been released yet, you can pre-order so it will be delivered immediately on release.
Opinion Contest
Every month I run an opinion poll contest. Answer this month's question and your name will be entered for the chance to win a special prize. Check out the details on the Contest page.

New Releases!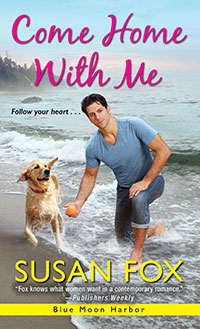 Title 3 (book 2) in the Blue Moon Harbor series
When single mom Miranda Gabriel hits rock bottom, she's forced to swallow her pride and return to the island she's always hated. Having been burned by love too many times, her focus now is on building a better life for her daughter.
Luke Chandler found the love of his life, and lost her in childbirth. Now he's busy with his twin boys and his veterinary practice. Neither Miranda nor Luke are looking for love, nor are they willing to trust in it—but their hearts may not give them a choice.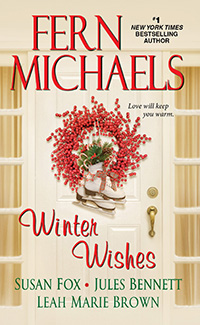 Title 2 in the Blue Moon Harbor series
Jillian and Michael have nothing in common—except the child two reckless college students created eight years ago. When Michael unexpectedly asks to meet his son, they have the twelve days of Christmas to get to know the adults they've become—adults who just might be ready to fall in love for real.
Winter Wishes also contains novellas by Fern Michaels, Jules Bennett, and Leah Marie Brown.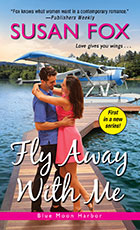 Title 1 in the Blue Moon Harbor series
Only for her ailing mom would busy lawyer Eden Blaine travel to a dot-on-the-map Pacific Northwest island. She's searching for her long-lost aunt, who once had ties to a commune on the island. Having broken up with her longtime boyfriend, romance is the last thing Eden is looking for—but her gorgeous seaplane pilot has her considering the merits of a carefree rebound fling. Thanks to Aaron Gabriel's troubled childhood, he has no illusions about happily ever after. But he appreciate a pretty woman's company, and Eden is the exact combination of smart and sexy that turns him on. Still, as he helps her search for her missing aunt, the casual relationship they both envisioned becomes something much more. Can two people determined to ignore romance recognize that their heated connection is the kind of love destined to last?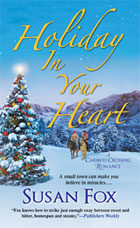 Title 8 in the Caribou Crossing Romances series.
The one thing thrift shop owner Maribeth Scott has always known is that she wants, more than anything, to be a mom. She's dated "men, men, men" since she was a teen but never found "the one." And so, as her fortieth birthday approaches, she decides on artificial insemination. Of course that's the exact time that fate sends her Mo Kincaid, a man she might actually fall in love with. The mechanic is a redeemed sinner and a good man, but there's a big hitch: he totally screwed up parenthood the first time around and has resolved never to do it again. But Caribou Crossing is a magical place and Christmas is a magical time—and who knows, maybe miracles really can happen!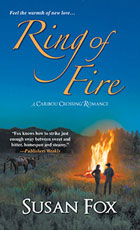 "Fox...proves again that she knows what women want in a contemporary romance." (Publishers Weekly)
Title 7 in the Caribou Crossing Romances series
Fire chief Lark Cantrell firmly believes that she, her mom, and her ten-year-old son Jayden are the perfect family. Men, like her father and her ex-husband, can't be relied on—at least not for more than an occasional hookup. Major Eric Weaver has a single mission in life: to overcome his leg amputation and his PTSD and return to active service. As an army brat, he's convinced that a career soldier can't successfully have a family life. But when fate brings Eric and Lark together not once but twice, the cynical fire chief and the scarred soldier may just have to accept the writing on the wall: a happily-ever-after for everyone concerned.