Sexy romance that's passionate, heartwarming, and fun!
July 15, 2017
Counting down . . . 10 days to the release day of Fly Away With Me on July 25!
I've been busy preparing guest interviews and blogs. There's a schedule on the Events page and I'll be posting the exact links on my Facebook page day by day.
I hope you'll pop over and check them out. There are some little-known facts about me, musings on my writing process, insights into my characters, exclusive excerpts, and all sorts of other good stuff. I'm grateful for the opportunities to share with readers and I'm so impressed by the excellent, thought-provoking questions asked by the interviewers.
I might also mention – there will be some giveaways, too, of autographed print copies of the book.
Speaking of prizes, congratulations to this month's opinion poll contest winner, Catherine O from DE, who won an advance review copy of Fly Away With Me and a FAWM totebag. Another contest is running, and the next prize is a pretty "Dare to Dream" notebook and an autographed copy of one of my books.
Happy summer and happy summer reading!
Susan
Events
Check out the Events page for more info about Susan's activities, and photos from past events.
Newsletter, give-aways and discussion questions
Sign up for my free monthly newsletter The Champagne News on the Contact page.
If you'd like a bookplate and/or bookmark for any of my books, fill out the contact form on the Contact page and I'll be happy to send them along.
Promotional items for bookstores, conferences, writing groups, book clubs and libraries are also available (flyers, bookmarks, autographed cover flats, bookplates).
Discussion (or personal reflection) guides are available in downloadable format for all my books. Check the Discussion Guide page for each book.
Having trouble finding my books?
If you can't find my books in your "bricks and mortar" store, don't forget, you can order online from a variety of sources. I've included purchase links for several stores, including Independent Booksellers. If a new book hasn't been released yet, you can pre-order so it will be delivered immediately on release.
Opinion Contest
Every month I run an opinion poll contest. Answer this month's question and your name will be entered for the chance to win a special prize. Check out the details on the Contest page.

New Releases!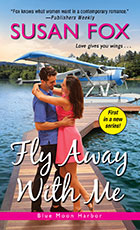 Title 1 in the Blue Moon Harbor series
Only for her ailing mom would busy lawyer Eden Blaine travel to a dot-on-the-map Pacific Northwest island. She's searching for her long-lost aunt, who once had ties to a commune on the island. Having broken up with her longtime boyfriend, romance is the last thing Eden is looking for—but her gorgeous seaplane pilot has her considering the merits of a carefree rebound fling. Thanks to Aaron Gabriel's troubled childhood, he has no illusions about happily ever after. But he appreciate a pretty woman's company, and Eden is the exact combination of smart and sexy that turns him on. Still, as he helps her search for her missing aunt, the casual relationship they both envisioned becomes something much more. Can two people determined to ignore romance recognize that their heated connection is the kind of love destined to last?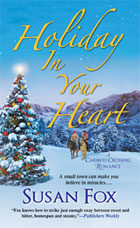 Title 8 in the Caribou Crossing Romances series.
The one thing thrift shop owner Maribeth Scott has always known is that she wants, more than anything, to be a mom. She's dated "men, men, men" since she was a teen but never found "the one." And so, as her fortieth birthday approaches, she decides on artificial insemination. Of course that's the exact time that fate sends her Mo Kincaid, a man she might actually fall in love with. The mechanic is a redeemed sinner and a good man, but there's a big hitch: he totally screwed up parenthood the first time around and has resolved never to do it again. But Caribou Crossing is a magical place and Christmas is a magical time—and who knows, maybe miracles really can happen!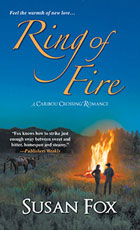 "Fox...proves again that she knows what women want in a contemporary romance." (Publishers Weekly)
Title 7 in the Caribou Crossing Romances series
Fire chief Lark Cantrell firmly believes that she, her mom, and her ten-year-old son Jayden are the perfect family. Men, like her father and her ex-husband, can't be relied on—at least not for more than an occasional hookup. Major Eric Weaver has a single mission in life: to overcome his leg amputation and his PTSD and return to active service. As an army brat, he's convinced that a career soldier can't successfully have a family life. But when fate brings Eric and Lark together not once but twice, the cynical fire chief and the scarred soldier may just have to accept the writing on the wall: a happily-ever-after for everyone concerned.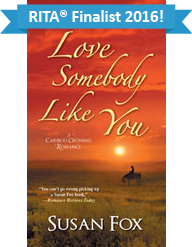 Title 6 in the Caribou Crossing Romances series
When Ben Traynor, a sexy cowboy from Sally Ryland's past, turns up at her Western riding school at the behest of her estranged family, the young widow must face the demons from her abusive marriage in order to heal and to not only reconnect with her past but move ahead to a bright new future.