Sexy romance that's passionate, heartwarming, and fun!
November 15, 2015
Is it just me, or is this year flying by really fast?
I've had one of those months where it seems like I'm changing hats a lot. I finished off Holiday in Your Heart and sent it off to my editor, and then turned around and did copy-edits on Ring of Fire (both of which are Caribou Crossing Romances, under my Susan Fox pen name). And speaking of Ring of Fire, the publisher sent me cover flats even though the book won't be out until June (although it is available online for pre-order). If you'd like an autographed cover flat, just get in touch via the Contact page of my website and be sure to let me know your mailing address.
I've also started brainstorming for the new Blue Moon Harbor series. Before launching into writing the first book, I need to get some sense of the world I'm creating. It's a made-up Gulf Island located near Victoria, BC – in among islands like Saltspring, Galiano, Mayne, Saturna, and Pender. I need to think about shape and size, geographic features, towns, history, population, industries, and so on and so on. It's an interesting exercise!
My shoulder rehabilitation is coming along slowly but steadily. I added acupuncture into the healing process, and it's helped with the pain level, and that's allowed me to do more exercise and especially more walking. So I'm feeling encouraged about that.
However, all the acupuncture, physical therapy, and chiropractic are now coming to an end because we're packing up Rex, our motor home, and planning to do the snowbird thing very soon. When I have to feed the fireplace all day long, and bundle up with long undies under my yoga pants, and a fleece jacket over my long-sleeved t-shirt, it's time to head south in search of warmth! I hope my shoulder will be okay with the on-the-road lifestyle, and I'll do my best to keep up with my exercises. Not to mention with my writing. I'll post photos on my Facebook page, if you want to see where I'm at and what I'm up to.
Congratulations to this month's contest winner, Yvonne B from FL, who wins an autographed copy of her choice of my books plus some Canadian chocolate: icewine and maple liqueur. A new contest is now running.
Susan
Events
Check out the Events page for more info about Susan's activities, and photos from past events.
Having trouble finding my books?
If you can't find my books in your "bricks and mortar" store, don't forget, you can order online from a variety of sources. I've included purchase links for several stores, including Independent Booksellers. If a new book hasn't been released yet, you can pre-order so it will be delivered immediately on release.
Opinion Contest
Every month I run an opinion poll contest. Answer this month's question and your name will be entered for the chance to win a special prize. Check out the details on the Contest page.
Newsletter, give-aways and discussion questions
Sign up for my monthly newsletter on the Contact page.
If you'd like a bookplate and/or bookmark for any of my books, fill out the contact form on the Contact page and I'll be happy to send them along.
Promotional items for bookstores, conferences, writing groups, book clubs and libraries are also available (flyers, bookmarks, autographed cover flats, bookplates).
Discussion (or personal reflection) guides are available in downloadable format for all my books. Check the Discussion Guide page for each book.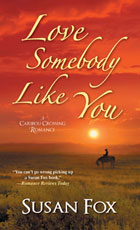 New Releases!
Title 6 in the Caribou Crossing Romances series
When Ben Traynor, a sexy cowboy from Sally Ryland's past, turns up at her Western riding school at the behest of her estranged family, the young widow must face the demons from her abusive marriage in order to heal and to not only reconnect with her past but move ahead to a bright new future.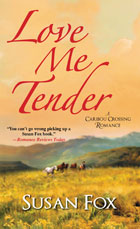 Title 5 in the Caribou Crossing Romances series.
Inn-owner Dave Cousins is known as the nicest—and loneliest—guy in town. Dare he risk his damaged heart again, on a free-spirited drifter? Like the wild goose tattooed on her shoulder, Cassidy Esperanza goes wherever the wind takes her, yet she has to admit there's something seductive about Caribou Crossing—and especially Dave. But when she faces a life-changing medical diagnosis, her first instinct is to take flight once more. Is Dave strong enough to help them both face their fears and believe that sometimes love truly can last a lifetime?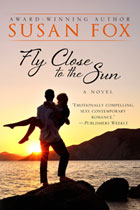 Lawyer Kieran Bridge's carefully planned life has unraveled. Distraught, she travels to Crete—the island she and her deceased father had always been drawn to—in search of the key to her future. She finds far more than she'd bargained for: a country that awakens her senses and emotions, and a man who challenges her as she's never been challenged before. She feels an inexplicable connection to Dr. Stefanos Dimitrakis, a fugitive accused of murdering his uncle. When Stefanos insists he's innocent, Kieran's instincts tell her to believe him—but in the past her judgment has failed her. How can she now believe in a bond that defies reason?