Books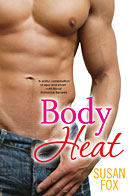 Body Heat
When a leather-jacketed biker rides down the avenue of pink flowering trees, Maura knows there's trouble, right here in Cherry Lane...
Maura Mahoney's quiet routine as accountant and acting manager at Cherry Lane retirement community is turned upside down when Jesse Blue, a bad boy on a Harley, roars into her life. He's been sentenced to do community service at Cherry Lane. Maura, protective of the seniors, puts him to work in the garden—outside her office window, where she can keep an eye on him. It's an instant attraction of opposites. Though each believes the other is way out of their league, they can't prevent the increasingly steamy fantasies that obsess them. When those fantasies turn to reality, will it shatter their tenuous relationship? Or will they discover that in fact they're not as different as they thought—and they can surmount the barriers between them and find a deep, lasting love?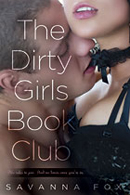 The Dirty Girls Book Club
Don't you wish your book club read sexy books?
When Georgia Malone's book club makes their first erotic selection, she's surprised to find herself identifying with the main character who is, like her, a widow who has never truly experienced the joys of sex. She's also stunned to find herself attracted to the spokesman for her new marketing campaign. Hockey star Woody Hanrahan is supremely masculine, with rough edges and cocky charm—exactly the sort of man she usually avoids. While her mind says stay away, Georgia's body tells her to give in, and she discovers a whole new world of erotic pleasure. But when it comes to writing her own happy ending, this dirty girl doesn't just need his body: turns out, she wants his heart!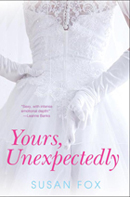 Yours, Unexpectedly
What happens when the runaway bride finds that her discarded groom has come along for the honeymoon cruise?
Merilee Fallon has been planning her wedding to Matt Townsend since she was seven. But, two days before the big day, she has a serious case of cold feet. She shocks both Matt and herself—and calls off the wedding. Needing a total change of scene, Merilee decides not to let their non-refundable Mexican Riviera cruise go to waste—not realizing Matt has the very same idea. Can they be friends? Will they find new lovers? Or will they discover that sometimes there's nothing more arousing than a second chance at first love—especially on a cruise ship where there are no rules and anything goes…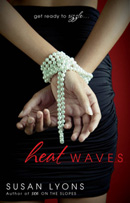 Heat Waves
Get ready to sizzle!
In charge of her first destination wedding, a Greek island cruise, sex is the last thing on widowed wedding planner Gwen Austin's mind—until Santos Michaelides helps her rediscover herself as a single, sensual woman. But then Gwen finds out that there's more to the charismatic cruise director than meets the eye… When Kendra Kirk meets up again with Flynn Kavanagh, the sexy IT consultant she'd unsuccessfully prosecuted, sparks of all kinds fly. But her newfound ability to put her life ahead of her career will be pushed to the breaking point when she learns the truth about Flynn…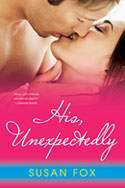 His, Unexpectedly

Free spirit Jenna Fallon avoids commitment of any sort. When her car breaks down en route from California to Vancouver, what fun to hitch a ride with a sexy marine biologist, and show him one wild road trip. Globe-trotting Mark Chambers isn't about to say no. Jenna bewitches and bedazzles him as they make their way up the Pacific Coast. For the first time ever, he wants commitment – with a woman who shuns the concept. Can Jenna overcome deep-seated insecurity and believe what her heart tells her – that this wild ride has an unexpected and very special destination: love?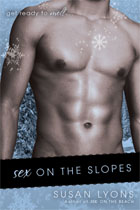 Sex on the Slopes
At a wedding in Whistler, the bride and groom aren't the only ones steaming up those winter nights! Wedding planner Andi wants to be a man's "first and only," yet can't keep her hands off sexy firefighter Jared, a widower who's loved and lost. Brianna, the host of a TV talk show, is all business. Can Zack, a hot Aussie ski instructor, seduce her over to the sexy side? Maddie always had a thing for her brother's bad boy friend Logan. She wants to prove she's grown up, and find out how a good a bad boy Logan really is!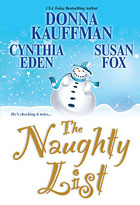 The Naughty List
– with Susan's novella,
"Tattoos and Mistletoe"
The only thing that could force one-time bad girl Charlie Coltrane back to Whistler, the town that rejected her, is the promise of an inheritance. She's determined to collect, and blow that town forever. Hot tool-belt guy LJ Jacoby, who's had a crush on Charlie since high school, has different plans. He let her get away once, and it's damned well not happening again – especially at Christmas time!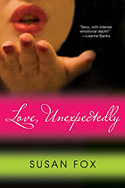 Love, Unexpectedly

Nav Bharani is in love with his neighbour, Kat Fallon, but she's stuck him in the buddy trap. Her train trip from Montreal is his opportunity to play "stranger on the train" and seduce her into seeing him in a whole new light – and realizing he's the man of her dreams. This is Book 2 in the Wild Ride to Love series that started with Sex Drive by Susan Lyons (Dec 2009).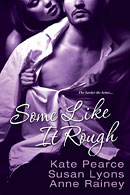 Some Like It Rough
– with Susan's novella, "Private Eyes"
Assigned to work undercover as an exotic dancer, straight-laced Haley Croft discovers the thrill of strutting her stuff. And when she catches sexy PI Ry Montana checking out her moves, she can't wait to give him his own private show... (Also contains novellas by Kate Pearce and Anne Rainey.)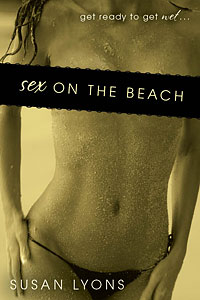 Sex on the Beach

An exotic wedding in Belize turns into an erotic escapade for three unlikely couples. When wedding planner Sarah learns that the groom's friend Free intends to save his pal from the mistake of marriage, it's an all-out war between the sexes. Model Tamiko Sato comes to the wedding as arm-candy for the groom's deep-in-the-closet uncle, so what's she to do when resort manager Ric proves far too tempting? Giovanna and her ex, James, mix as well as Italian olive oil and English tonic water; how embarrassing — and exciting! — to discover the flame of passion still burns.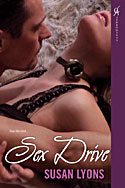 Sex Drive
Wild Ride to Love book 1
Prof. Theresa Fallon's ex-husband gave her good reason to swear off men. But when, on the flight from Sydney to Vancouver, she's seated beside one of Australia's ten sexiest bachelors, she has reason to question that decision. It's a long flight, but thriller writer Damien Black has ways of making the hours fly by! From there, it's not all that big a step to enjoying a stopover together in romantic Honolulu. For the cynical Theresa and the far-too-experienced Damien, this journey is a special one. To their mutual surprise, they're on a wild ride to love!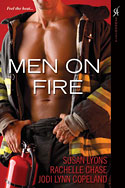 Men on Fire
– with Susan's novella, "Too Hot to Handle"
Jade attends a bachelor auction to "buy" a faux fiancé. She's looking for a nice conservative white-collar guy, but when her girlfriends thwart her plans and buy her sexy firefighter Quinn, let the sparks fly! (Also contains steamy firefighter novellas by Rachelle Chase and Jodi Lynn Copeland.)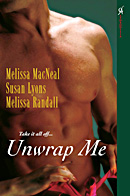 Unwrap Me – with Susan's novella, "Unwrap Me"
In "Unwrap Me," Christmas-hating Jude proves a challenge for Nick, who's a big fan of the season. But he's up to the task, with a very persuasive – and sexy – twelve days of Christmas! (Also contains sexy holiday stories by Melissa MacNeal and Melissa Randall.)

COMING SOON – Watch for:
Dare to be Dirty (Dirty Girls Book #2) by Savanna Fox, Berkley Heat (July 2013)
Caribou Crossing (Caribou Crossing #1) by Susan Fox, Kensington Zebra (July 2013)
Home on the Range (Caribou Crossing #2) by Susan Fox, Kensington Zebra (July 2013)
Gentle on my Mind (Caribou Crossing #3) by Susan Fox, Kensington (July 2013)
Bound to Be Dirty (Dirty Girls Book Club #3) by Savanna Fox, Berkley Heat (Feb 2014)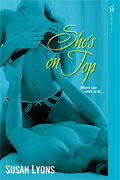 She's On Top
Awesome Foursome book 4
Rina reconnects with her first love, Giancarlo, and is happy to let the magic-fingered pianist create sensual body music with her – so long as he plays by her rule. Plus-size Rina has body image issues and will only have sex with the lights off. Can Giancarlo bring her into the light and convince her to love her lush body just as much as he does?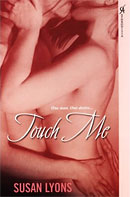 Touch Me
Awesome Foursome book 3
What happens when a stressed-out lady lawyer meets a masseur named Adonis? Workaholic Ann is game to learn about tantric sex from laid-back Adonis, just so long as he plays by her rule. Because the one thing she'll never do is give up control – especially of her heart – to any man. And certainly not one who's her polar opposite. Right?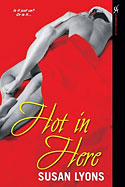 Hot in Here
Awesome Foursome book 2
Chinese-Canadian journalist Jenny knows how to go after what she wants – and that's Scott, the winner of the firefighter calendar competition. It doesn't matter that he's white and she can't tell her traditional family that she's seeing him, because their relationship's about fantasy, not reality. According to her rule, they'll enact each other's wildest fantasies. The one thing they can't do is fall in love or life will get really complicated!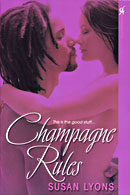 Champagne Rules
Awesome Foursome book 1
Vet student Suzanne finds her sexy side with super-hot African-American lawyer, Jaxon. Their rule: keep it light and sparkly, like champagne. So why should it matter that she's all about home and family and his top priority is his career? Well, it wouldn't – unless, of course, they were starting to fall for each other . . .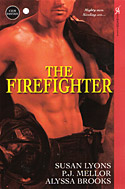 Hot Down Under (in The Firefighter)
In "Hot Down Under," Tash grudgingly agrees to "babysit" her eccentric grandmother on her trip to Australia, little does she realize that Nana has romance on her mind—for both of them! (Also contains sexy firefighter stories by P.J. Mellor and Alyssa Brooks.)