Stories
Short stories present a special challenge: bringing the characters to life and touching the reader's heart, in just a few words.
Sweet Indulgences: heartwarming short romances

These sweet short stories are designed for the busy woman who deserves a few minutes of self-indulgence – on the bus or train to work, during coffee or lunch break, while waiting to pick the kids up, sitting in the doctor or dentist's waiting room, sinking into a bubble bath before bed, or . . . well, I'm sure you get the picture.
Each volume contains two or three stories. A new volume will be published each month during 2014. Earlier versions of many of the stories in theSweet Indulgences series were published by The Wild Rose Press, by Freya's Bower, and in the magazines Woman's World, The People's Friend, New Love Stories, Woman's Weekly, and Woman's Day.
The Sweet Indulgences covers feature photographs taken by the author.
Erotique

I'm delighted to have sold three erotic romances to Harlequin's e-published Spice Briefs.
At the exclusive sex club, Erotique, three women find the erotic adventures they're seeking – and much more!
Normally Carrie is a very responsible person...but she still likes to walk the line every now and then. That's when she visits Erotique, a private club where members don costumes and use false names to explore their secret fantasies. For Carrie, it's a chance for the suburban mom to feel like a sex goddess--especially when a certain masked man is waiting for her....!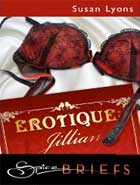 Jillian had been careful not to combine her personal and professional lives...even if that meant turning down a date with her sexy colleague Sandro Rodriguez. Still, she was in the mood for some fun and couldn't resist a guest-pass to the private sex club Erotique from her boss, Carrie. Jillian hoped to relieve her cravings with a hot guy who understood how to tease and arouse her—but she never expected that man to be Sandro! And he was determined to show her just how fun mixing business with pleasure could be....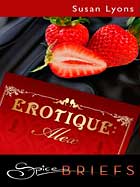 The best inspiration for Alex Blake's erotic novels used to be her forbidden – and unfulfilled – lust for Lincoln Wolf. But years later Lincoln, and her muse, are long gone. To rekindle her imagination, Alex takes up an invitation to visit Erotique, a private sex club that guarantees anonymity...and a chance to act out one of Alex's most ravishing desires. While Alex expects one fantasy, Erotique has another surprise for her: satisfying her ultimate fantasy of a night of passion with Lincoln himself....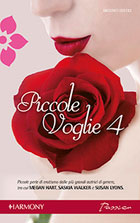 Susan's three Erotique stories are included in
Piccole Voglie 4
, an Italian anthology that also includes stories by Megan Hart, Saskia Walker, Tiffany Reisz, Lisa Renee Jones, Eva Cassel, Pamela Johnson, Alison Tyler, and Anne Calhoun.
Northern Heat: best Canadian erotic romance stories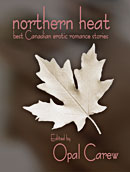 I am delighted to have contributed a story to Northern Heat, edited by Opal Carew and published by Quarry Press.
Featuring some of the best examples of Canadian erotic romance, this anthology includes stories by Opal Carew, Kayla Perrin, Sharon Page, Bonnie Edwards, Kate St. James, Sasha White, Anara Bella, Leah Braemel, Christine d'Abo, Cathryn Fox, and Jan Springer, and by me writing as Savanna Fox. Long before the success of Fifty Shades of Grey by E.L. James, Canadian women were writing erotic romance stories that are brazen, seductive, and sexually liberating. This collection of stories will leave you yearning for more... and dispel once and for all the myth that Canadians are as frigid as the northern climate.
These delightful stories show the broad range of eroticism and romance in stories that publishers label as "erotic romance". Some focus on the burgeoning romance between a couple, whereas others focus more on the erotic situation that hints at a romance to build in the future. Yet others are simply a celebration of sexual intimacy. In all, however, the characters are challenged by some aspect of their sexual desire for each other.
Note: This book is available in print only, not in digital format.
"NORTHERN HEAT is a wonderful anthology showcasing the talents of some of Canada's romance authors. You'll be treated to several different genres and heat levels but all the stories in this book are positively delightful. Honestly, I knew we had talented authors who lived in Canada since I've read all of them before but somehow having their writing displayed under one cover just amps up the wow factor. What I especially love about this anthology is there's no hype and no scandal (ok, maybe a little scandal), but we're not going to have to be bombarded with it on the nightly news. It's simply deliciously naughty fun — and isn't that the best kind?" (Chrissy Dionne, Romance Junkies — blue ribbon review)
"All of those long, cold Canadian nights are certainly good for something, and this anthology is the result. Really, what could be better than snuggling up with your honey and swapping some very sexy stories with each other? Several of these stories, in fact, just make the reader want to beg for more. You will also wish you could be part of the action as these authors get right to the heart of the matter." (Lototy, Coffee Time Romance)