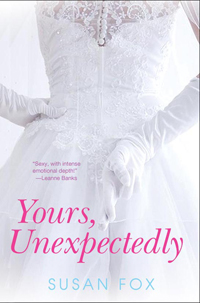 Yours, Unexpectedly
The Story | Excerpt | Praise | Foreign Editions | Behind the Scenes | Discussion Guide (PDF) | Recipes | Buy the Book
Here's what reviewers say about Yours, Unexpectedly
"Fox focuses on the growth and emotional issues of a couple who have been together since childhood… Merilee and Matt are a couple worth rooting for in this feel-good read."
– RT Book Reviews
"YOURS, UNEXPECTEDLY is a wonderful tale of rediscovering and redefining love in a heartwarming and sizzling way. Readers will feel Merilee's insecurities and Matt's heartbreak. They've known each other forever, yet never explored their relationship outside the boundaries. Close quarters on a cruise provides the perfect outlet for making them look at their lives and each other in a new way. Told from Merilee's first person point of view and Matt's third person, readers get to explore inside their heads and sympathize with both. I think that is what makes YOURS, UNEXPECTEDLY special—neither Matt nor Merilee was wrong in their initial actions, yet both were at fault in letting themselves drift along. Rekindled love and sex on the high seas is a fresh tale of romance and emotion I highly recommend. You can't go wrong picking up a Susan Fox book, and you certainly will be the winner if you pick up YOURS, UNEXPECTEDLY."
– Holly Tibbs, Romance Reviews Today
"Their cruise trip is enlivened by sexual tension and uncertainty, and as the novel progresses, true love invariably takes its course... The sum is a light but satisfying firelight read."
– Publishers Weekly
"This book was a beautiful ending to a really wonderful and sensual series."
– Tina, TwoLips (5 kisses)

"This is startling, sensual, sexy, passionate tale of two lovers finding their way back to each other as new people. No one writes a love story like Susan Fox; it is gripping, entertaining, intelligent; the dialogue is so real you can hear it in your head. If you have not read the previous books, that is okay, this one stands alone as well but try and get the first three to see the culmination of the lives of four completely different sisters. Don't miss this -- as with all the others it ends with a smile!"
–Canterbury Bell, Whipped Cream (5 cherries)
"Discovering themselves in a tropical paradise and rediscovering passion made for a refreshing experience for this reader. I wanted them to find their way back to one another and rooted for them, something I haven't felt for a couple in a long time and I think their age played into that feeling. Ms. Fox is a new to me writer but she's certainly on my radar now. Her unique writing style and character driven plot have given me another contemporary author to look forward to reading."
–Heather Brooks, All About Romance
Finalist in:
Heart of Excellence Readers' Choice Award, 2nd place
Ancient City Romance Authors Heart of Excellence Readers' Choice Award, 2nd place
"YOURS, UNEXPECTEDLY is both wild and sweet. It tugs at the heartstrings and delivers a powerful message or two. It is the perfect ending to the exciting Wild Ride to Love series that has kept me captivated and engrossed... Matt and Merilee's story is one that will stay with me for some time to come. Fluid writing, absolutely unforgettable characters, YOURS, UNEXPECTEDLY will touch you and provoke you to think about love and life. And like Matt, this book--the entire series--is a keeper!"
– Shana Rea, The Romance Reviews
"Ms. Fox has such a knack for being able to convey the emotions of her characters with much candidness and frank honesty, and each book in the Wild Ride to Love series has been packed with typical human sentiments. YOURS, UNEXPECTEDLY is about young love turning into a mature romance where expectations are voiced and fantasies are sexually fulfilled... The Wild Ride to Love series has been adventurous and entertaining, as each sister finds that certain man who makes their lives more complete. Also, the cruise aspect in the story is particularly colorful and gives readers an authentic feel for this wonderful type of vacation. YOURS, UNEXPECTEDLY is a delightfully sensuous romance filled with heartfelt desires, dramatic emotions and an appealing couple."
– Amelia Richard, Sensual Reads (5 stars)
"This is an engaging second chance romance with the premise of never take for granted critical relationships."
– Harriet Klausner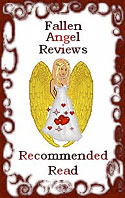 "Susan Fox's new book in the The Wild Ride to Love series is also another hit for this reviewer. We have the M & M story, a.k.a Matt and Merilee, two people who've always been joined at the hip, hence the problem. Merilee is tired of being combined with Matt. She wants her own life yet, her heart still wants Matt. She knows marriage to him will be great, but something in her feels that she wants more. Susan Fox did a great job in showing us that yes; brides have jitters, but yearn for more than the perfect wedding. Merilee has been through a lot and Matt is strong enough to give her the space she needs. The romance is there and the things that Matt does to win her back are honorable. I loved that Matt had patience and that Merilee still loved him, but it will take work. All in all, it was a great book that I highly recommended."
– Melinda B, Fallen Angel Reviews