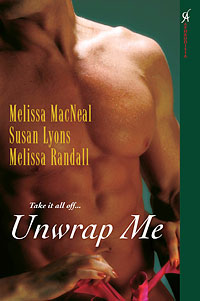 Unwrap Me in Unwrap Me
The Story | Excerpt | Praise | Behind the Scenes | Discussion Guide (PDF) | Recipes | Buy the Book
RECIPES
St. Nick's Hot Chocolate
Nick makes this hot chocolate for Jude the first time he spends the night.
Make your favorite hot chocolate (from scratch or from a mix), top with miniature marshmallows, and add a candy cane as a swizzle stick.
Nick's Mom's Eggnog
On the 8th day of Christmas (the "maids a-milking" day), Nick presents Jude with a batch of this special eggnog.
Ingredients:
8 eggs (very fresh; organic preferred)
1 c. sugar
2 tsp vanilla
1/4 tsp salt
3 cups milk (whole or 2%)
1 1/2 c. Cognac, brandy, or rum (white or dark, as you prefer)
2 c. bourbon
2 c. whipping cream
ground cinnamon and/or nutmeg
Separate eggs.
Beat yolks with 1/2 c. sugar, salt, and vanilla until thick and light yellow.
Slowly beat in milk and all alcohol.
Cover and chill overnight.
Beat egg whites until they form soft peaks then gradually beat in 1/2 c. sugar. Beat whipping cream until it forms soft peaks. Fold the egg white and sugar mixture into the beaten whipping cream. Slowly pour in the chilled yolk/milk/alcohol mixture, folding gently.
Sprinkle nutmeg and/or cinnamon on top.
Nick's Mom's Shortbread
Nick and his brother and sister-in-law are making this shortbread the night they find out his Christmas-loving parents will be away for the holiday.
Ingredients:
1 c. butter (unsalted is preferred)
1/2 c. icing sugar
1/2 tsp. salt
1/2 tsp. vanilla
2 c. flour
Combine dry ingredients. Cut in butter and add vanilla. Knead dough for a couple of minutes. Pat into an ungreased baking pan 15" x 10" x 1" (or flatten onto an ungreased cookie sheet to a thickness of approx. 1/4"). Prick surface all over with a fork, piercing all the way through to the bottom.
Bake at 325 degrees F for 25-30 minutes, until golden.
Remove from oven and, while warm, cut into desired shapes (rectangles, diamonds, etc.) using a serrated knife.