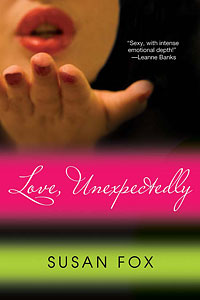 Love, Unexpectedly
The Story | Excerpt | Praise | Foreign Editions | Behind the Scenes | Discussion Guide (PDF) | Recipes | Buy the Book
BEHIND THE SCENES
I had a head-start on this book, because I already knew it was the "trains" segment of my sexy "planes, trains, automobiles, and a cruise ship" Wild Ride to Love series. And I knew my heroine, Kat Fallon, because she's one of the four sisters introduced in the first (planes) book, Sex Drive. When I wrote the first book, I got a pretty clear handle on all the sisters.
So, I knew Kat (who's a PR director at a luxury hotel in Montreal) really wanted love, marriage, and a family, yet had terrible luck with men. She fell quickly and passionately for "larger than life" guys (e.g., a NASCAR champ, a gold medal skier) and the relationships never worked out.
For Kat, I wanted to write a very special love story. Sometimes, we fail to see what's right under our nose. Personally, I love romances when best friends turn into lovers (do you know the song "Tonight I Celebrate My Love For You" by Roberta Flack and Peabo Bryson? – love it!), so that's what I gave Kat. But not the "When Harry Met Sally" kind, where they were kind of like middle-aged squabbling spouses from the beginning <g> – Kat deserved a romance with excitement and passion as well as trust and true friendship.
There's a twist, in that Kat's neighbor and best friend, photographer Nav Bharani, has been in love with Kat pretty much ever since he met her. She doesn't see him that way, though – or at least, she tries not to. He's the closest friend she's ever had and, given her disastrous track record with lovers, she refuses to risk their friendship.
So, Nav needs a game plan to break out of the buddy trap and win her. And that's where the trains come in!
Ah, the romance of travel by rail! I love those old movies like "North by Northwest" and "Silver Streak," where strangers meet on a train and fall for each other. So, when Kat takes a cross-Canada train trip from Montreal to Vancouver for her baby sister's wedding, the desperate Nav grabs the opportunity.
To spice things up, I gave him a dramatic strategy to open Kat's eyes and make her see him differently. He has a make-over and transforms himself into an exciting "stranger," a Bollywood movie producer, the kind of man she typically goes for. If she opts into playing "the stranger game" (pretending he really is the movie producer rather than her old friend), she can explore her secret passion for Nav without consequences. She can have the stranger on the train, and her best friend when she returns home.
Well, of course it's not going to work out that way! For Kat and Nav, once they start their wild ride to love, there will be no turning back.
I hope you'll join them on their journey.