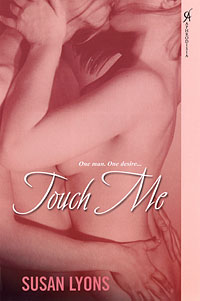 Touch Me
The Story | Excerpt | Praise | Foreign Editions | Behind the Scenes | Discussion Guide (PDF) | Recipes | Buy the Book
RECIPES
From Touch Me
Adonis's Dolmades (Greek stuffed grape leaves)
Adonis makes these for Ann when he invites her for dinner.
Ingredients:
40 preserved grape leaves
1/2 c. uncooked long-grain white or Basmati rice
5-6 tbsp. olive oil
3/4 c. finely chopped onion
2 cloves garlic, minced
1/2 lb. lean ground lamb (or beef)
salt and freshly ground black pepper
1 tsp. dried oregano
3 tbsp. chopped parsley
2 tbsp. chopped mint
2 tbsp. pine nuts
2 lemons
plain yogurt
Bring 2 quarts water to boil in a heavy saucepan. Drop in the grape leaves and turn off the heat. Soak the leaves for 1 minute then drain them into a sieve and pour cold water over them until they have cooled. Separate the leaves gently and spread on paper towels to drain, dull side up. Snip off any hard stems and reserve.
Cook the rice as you normally would.
In a heavy 12 inch skillet, heat 3 tbsp. olive oil over moderate heat. Add the onion and sauté for 3-5 minutes until soft, then add the garlic and sauté another minute. Add the lamb (beef) and sauté until well browned. Add salt, pepper, oregano, then remove from the heat.
Toast the pine nuts, either in a toaster oven or by sautéing lightly in olive oil.
To the meat mixture, stir in the rice, pine nuts, parsley, and mint until well mixed.
Stuff each of 30 grape leaves with approximately 1 tbsp. of the meat/rice mixture as follows. Place the leaf, dull side up, on a flat surface. Place the filling in the center, near the stem edge. Fold up the stem edge over the filling, then fold one side over the top, then the other side. Starting at the stem edge, roll the stuffed leaf into a cylinder. Squeeze lightly to secure and place seam-side down. (If any leaves rip, put them aside. You'll need some extras.)
Line the bottom of a heavy 2-3 quart heavy casserole or saucepan with the snipped-off stems and remaining leaves. Arrange the stuffed leaves, seam-side down, packed closely in layers.
Sprinkle with 2 tbsp. oil and the juice of 1 lemon. If the lemon juice is less than 3 tbsp. total, add water to make up the extra.
Place the casserole/saucepan over high heat and bring to a boil, then reduce to a simmer and cook, tightly covered, for 50 minutes. Uncover and cool to room temperature.
Serve with lemon wedges and plain yogurt.