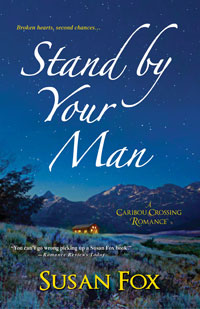 Stand by Your Man
The Story | Excerpt | Praise | Behind the Scenes | Discussion Guide (PDF) | Recipes | Buy the Book
RECIPES
Karen's Greek Chicken Casserole
Ingredients:
[Note: Quantities of each ingredient are flexible. Experiment to see what best suits your taste.]
boneless chicken breasts and thighs cut into chunks (as for stew)
flour, salt, pepper
olive oil and/or butter
tinned diced tomatoes with liquid drained off
onions sliced or chopped into fairly large pieces
feta cheese, crumbled
black olives, sliced or whole
ground black pepper
cinnamon
oregano, fresh or dried
Preheat oven to 375 degrees.
Dredge the chunks of chicken in flour seasoned with salt and pepper. Heat butter/oil and sauté chicken pieces over medium heat until browned. Don't cook them all the way through.
Put chicken in a casserole and add all the other ingredients. Don't use the liquid from the tinned tomatoes or the dish will be too wet. Reserve some of the feta cheese to crumble on top.
Bake uncovered at 375 degrees for approximately 45 minutes. You may wish to finish off by broiling to brown the feta on the top.
Serve with rice or pasta, or just lots of fresh crusty Italian or French bread to mop up the sauce.
Greek salad is a nice compliment to this casserole.
Brooke's Chocolate Mint Cake
Ingredients:
1 cup water
5 peppermint tea bags (or use orange, raspberry, etc. if you prefer those flavors)
3 oz unsweetened chocolate (either chips, or break squares into pieces)
1/2 cup soft butter
2 cups sugar
2 eggs, separated
1 1/2 tsp baking soda
1 1/4 cup sour cream
2 cups flour
1 tsp baking powder
whipping cream (quantity depends on whether you want to only put it between the layers and on top, or to frost the sides as well)
icing sugar
peppermint flavoring or peppermint liqueur
Preheat oven to 350 degrees.
Bring water to boil in a heavy saucepan, add tea bags, remove from heat and steep 5 minutes. Remove tea bags, squeezing out the excess, and discard. Return the tea to a boil.
Combine chocolate and butter in a large bowl and pour tea over the top. Whisk until melted. Stir in sugar and egg yolks.
In a separate bowl mix baking soda and sour cream.
Alternately add flour and soda/sour cream mixtures to the chocolate mixture, mixing well.
In a separate bowl whip egg whites until stiff. Fold egg whites into batter.
Grease and flour two 8" round cake pans and divide the batter between them.
Bake 30-35 minutes, until a toothpick comes out clean. Cool before icing.
Whip cream with enough icing sugar to stiffen the cream and add peppermint flavoring. Frost the cake.