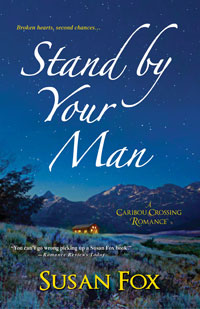 Stand by Your Man
The Story | Excerpt | Praise | Behind the Scenes | Discussion Guide (PDF) | Recipes | Buy the Book
BEHIND THE SCENES
Karen MacLean and Jamal Estevez introduced themselves to me when I was writing Gentle on My Mind.
The hero of that book, undercover RCMP cop Jake Brannon, needed a handler/partner/buddy back at the Vancouver office. It could have been a tiny bit part, but Jamal's personality, and the relationship between the two men, turned out to be too big for that. Both were men with rough family backgrounds, both had sought undercover work from the moment they joined the RCMP, and they'd been drawn together from the day they met. Another thing they had in common: neither believed he was the type of man who'd ever find, or deserve, love and a happy family life.
Well, Jake did find all of that, of course, with Brooke Kincaid in Gentle on My Mind.
But for Jamal, it would be even tougher because he had one big, bad secret, something only one other person in the world knew, and that person was Jake. Jamal's secret? He was an alcoholic. He'd started drinking too much when he worked undercover, and it turned into an addiction, one that impacted his work. But with Jake's help he turned his life around and achieved sobriety. So he was a strong man, but a flawed one, and a man whose only vision of the future involved his work.
Karen MacLean also made her appearance in Gentle on My Mind when I needed a Caribou Crossing RCMP officer to work with Jake in trying to capturer a murdering drug dealer.
Karen was a devoted small-town cop and loved her job. But her personal life wasn't as satisfying. Although she had always dreamed of finding the same thing her parents had-love, marriage, and kids as well as a meaningful career-she found that men were put off by her uniform. They either were intimidated by her or thought she wasn't feminine and attractive.
When I wrote Gentle on My Mind, I really came to care for Jamal and Karen, and want the two of them to find a happy, loving future. Jamal sure wasn't a guy to be intimidated by any woman, and was perceptive enough to see Karen's many appealing features. As for her, how could she not be blown away by the sexy undercover cop?
So, in that book, there was an attraction. A connection. And then the case was solved, and the book ended. But no way could I let that be the end of the story for Karen and Jamal.
When Kensington asked me to write another title in the series, I immediately said, "Karen and Jamal!" I knew it wouldn't be easy for them-with his big secret and his totally crappy family background, her insecurity about her own femininity and attractiveness, and the fact that his job was in Vancouver and hers was in Caribou Crossing. But I also knew they both deserved happiness, and that they'd only find it with each other. And so, Stand by Your Man was born.
I hope you enjoy the sparks and head-butting that occur when these two strong-minded and fragile-hearted cops struggle their way to their own happy ending.
The Caribou Crossing Series