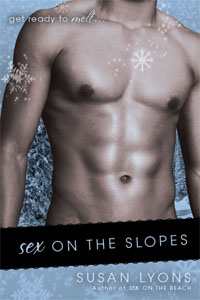 Sex On The Slopes
The Story | Excerpt | Praise | Behind the Scenes | Discussion Guide (PDF) | Recipes | Buy the Book
BEHIND THE SCENES
This book owes its existence in part to Allison Brandau, my original editor at Berkley. I had a lot of fun writing my first book for Berkley, Sex on the Beach (January 2010), which was set around a destination wedding in Belize. Then it was option proposal time: what kind of book might they be interested in buying from me now? I sent Allison several ideas, and we decided it would be fun to take the same concept—three secret romances at a destination wedding—and set the story in spectacular Whistler, B.C.
I wanted to write a winter book, and to me the ideal winter involves snow. (Well, actually, for me, my preference would be to go to the tropics and avoid the whole winter thing, but I do think that winter books should involve snow.) In the area where I live, rain's way more common than snow, but just up the road two or three hours is Whistler, site of the 2010 Olympics. I've known Whistler all my life, and seen it grow from a rustic village to an international resort that's still, in its own fashion, a bit of a rustic village. It's a totally intriguing setting.
In Whistler you have everything from aging hippies who first settled the area to international celebrities. From families raising their kids to top-notch athletes from all over the world. From "townies" up from Vancouver for a day's skiing or boarding to, unfortunately, gambling, drugs, and prostitution. It's a small town in some ways, yet also an international resort destination.
What more fascinating setting for a book?
"Fire and Ice"
I knew one of my heroines would be wedding planner Andi, partner of Sarah, the wedding planner in Sex on the Beach. I wanted to give her a challenge, so I sent her not only a fire on the first night—one that sends her out into the snow in her sexy lingerie!—but also hottie firefighter Jared, a man who believes his heart belongs to his deceased wife.
"Slippery Slope"
There are a lot of transient workers at Whistler, and a lot of Aussies. So, ski bum Zack appeared in my mind. And wouldn't it be fun if he hooked up with his complete opposite: an older, successful woman who has overcome a rotten past, and whose career and image mean everything to her? When Brianna takes a ski lesson from Zack, she starts out on a very slippery—and sexy—slope!
"In Hot Pursuit of a Bad Boy"
For the third couple, I chose a variation of one of my favorite story lines: the girl who had a crush on the older bad boy. But now, Maddie's all grown up, and she's not going to let Logan escape a second time—even if he has a very dark secret he's hiding from the world. It was fun setting the "sweet" girl in hot pursuit of a very "bad" boy!
Luckily, I wrote Sex on the Slopes last winter, so I could settle in by the fire, sip hot chocolate, and really get in the mood for some winter romance. And, of course, test out recipes for the winter drinks that are included in the book!