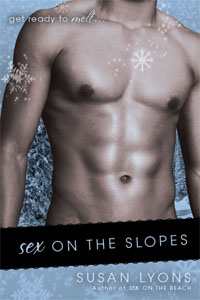 Sex On The Slopes
The Story | Excerpt | Praise | Behind the Scenes | Discussion Guide (PDF) | Recipes | Buy the Book
THE STORY
At a destination wedding in Whistler, the bride and groom aren't the only ones steaming up those cold winter nights!
"Fire and Ice"
Wedding planner Andi Radcliffe wants to be a man's "first and only," yet she can't take her eyes—or hands—off sexy firefighter Jared, a widower who's already loved and lost. Though she doesn't want to be any man's second choice, their secret rendezvous are setting off all the right alarms.
"Slippery Slope"
Brianna George, the groom's boss and friend, is the celebrity host of a TV talk show. She's all about business—until Zack, a hot young Aussie ski instructor, seduces her over to the sexy side of life. But will their secret romance jeopardize her career?
"In Hot Pursuit of a Bad Boy"
Maddie Donovan, the groom's little sister, always had a thing for his bad boy friend Logan. Seeing him again after so many years, she won't miss her chance to prove she's all grown up…and find out just how a good a bad boy Logan really is.