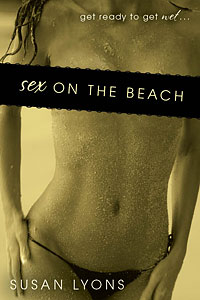 Sex On The Beach
The Story | Excerpt | Praise | Behind the Scenes | Discussion Guide (PDF) | Recipes | Buy the Book
RECIPES
Sex on the Beach
This recipe for the book's signature drink was provided by Francisca Mesiano
1 1/2 oz vodka
3/4 oz peach schnapps
1/2 oz creme de cassis
2 oz orange juice
2 oz cranberry juice
Combine ingredients in a cocktail shaker with ice cubes. Shake and strain into a highball glass. Garnish with an orange slice and maraschino cherry. If you're in the tropics, decorate with a hibiscus blossom!
[Francisca won the "Sex on the Beach" Recipe Contest!]
Shrimp, Mushroom and Avocado Salad
When the wedding party goes to the Crown Jewel resort for dinner, this is their appetizer.
Makes 4 servings, appetizer size.
Ingredients:

Instructions:

Marinade

Marinade:

1/2 cup extra virgin olive oil
2 tbsp red wine vinegar
1 tbsp freshly squeezed lemon juice
1 clove garlic, crushed but left whole
2 tsps Dijon mustard
several dashes Worcestershire sauce
pinch salt
pinch sugar
freshly ground black pepper
2 tbsp finely chopped parsley

Combine ingredients for marinade in a bowl and mix thoroughly. (Yes, leave the garlic whole.)

Other ingredients:

Other instructions:

1 lb fresh white button mushrooms (medium-sized to large)
a few leaves of your favorite lettuce (butter lettuce is really pretty for this)
1 avocado
1/2 lb or more fresh shrimp (peeled)
juice of 1 lemon
freshly ground black pepper
2 tbsp coarsely chopped parsley

Clean mushrooms, slice 1/4" thick, and mix gently in the marinade so they're coated. Refrigerate for approximately 2 hours, stirring occasionally.

Peel avocado, slice and sprinkle with lemon juice so it won't discolour. Wash shrimp in cold water and sprinkle with lemon juice – or dip briefly in the marinade.

Assembly:

Assemble salad individually on salad plates. First, arrange washed lettuce leaves, then top with sliced avocado, then marinated mushrooms (remember to discard the garlic clove). Sprinkle with pepper. Arrange shrimp on top and sprinkle with parsley.

This salad goes perfectly with a crisp or fruity chilled white wine and crusty French bread with unsweetened butter.