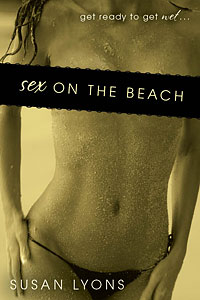 Sex On The Beach
The Story | Excerpt | Praise | Behind the Scenes | Discussion Guide (PDF) | Recipes | Buy the Book
THE STORY
An exotic wedding turns into an erotic escapade for three unlikely couples who find lust—and maybe even love—on the white sands of Belize. Get ready to get wet!
"War of the Sexes"
When wedding planner Sarah McCann learns that the groom's best friend, Free Lafontaine, intends to save his pal from the mistake of marriage, it's an all-out war between the sexes. Turns out, the prize could be much more than either of them expected, and this war just may have two winners.
"Sex With the Proper Stranger"
Model Tamiko Sato comes to the wedding as arm-candy for the groom's deep-in-the-closet uncle. What's she to do when resort manager Ric Nuñez proves far too tempting? Ric just might be the man who can help her heal the wounds left by past abuse, and open her heart to love.
"Sexy Exes"
Giovanna Moncrieff and her ex, James, mix as well as Italian olive oil and English tonic water. How embarrassing—and exciting!—to find that their passion for each other still burns hot and heavy. Is it possible to find true love the second time around?
Book video by Jackie Barbosa