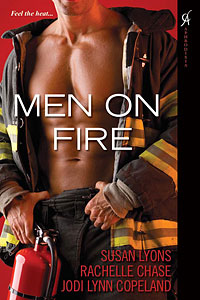 Too Hot to Handle
in Men On Fire
The Story | Excerpt | Praise | Behind the Scenes | Discussion Guide (PDF) | Recipes | Buy the Book
Nanaimo Bars
These are Jade's favorite treat. She makes a pan of them to share with Quinn during their picnic on his sailboat.
Ingredients:

Instructions:

Base:

1/2 cup butter

1/4 cup white sugar

5 tbsp cocoa

1 tsp vanilla

1 egg

2 cups graham wafer crumbs

1 cup coconut

1/2 cup chopped walnuts

Base:

Put softened butter, sugar, cocoa, vanilla and egg in a bowl and set over boiling water. Stir until the butter melts and the mixture resembles a thick custard.
Combine the crumbs, coconut and nuts -- blend well and add to the first mixture.
Pack into a 9" pan and let cool (you can refrigerate to speed the process).

Middle layer:

3 tbsp milk (may need a bit extra)

2 tbsp vanilla custard powder

1/4 cup butter

2 cups icing/confectioner's sugar

Middle layer:

Combine custard powder with milk then cream with butter. Blend in icing sugar, adding a bit more milk if needed. Spoon over the base and let stand at least 15 minutes to set.

Top layer:

4 squares semi-sweet chocolate

1 tbsp butter

Top layer:

Over hot water, melt chocolate with butter.
Drizzle over the top of the icing/custard layer.

Let set then cut into squares (it'll be hard to cut; you need a sharp knife).
Raining Men Cocktail
The signature drink for the Raining Men bachelor auction.
Ingredients:
2 medium-sized ripe strawberries
2 oz Alizé Gold Passion passion fruit liqueur
1 scoop Breyers Natural Vanilla ice cream
1 ice cube, crushed
Combine in a blender and blend until foamy. Pour into a martini glass. Garnish with a luscious ripe strawberry.