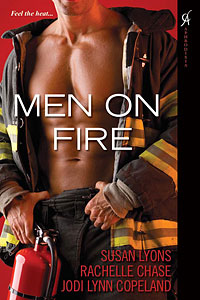 Too Hot to Handle
in Men On Fire
The Story | Excerpt | Praise | Behind the Scenes | Discussion Guide (PDF) | Recipes | Buy the Book
THE STORY
Jade Rousseau needs a faux fiancé, a nice conservative white-collar man, and she's sure she'll find him at the Raining Men bachelor auction. When her girlfriends instead buy her sexy firefighter Quinn O'Malley, let the sparks fly!
Jade knows she'll never get serious about the firefighter because, after almost losing her policeman dad in a shooting, she'd never give her heart to a man whose life is all about risk.
But Quinn has seductive ways. If he can persuade her to ride a motorbike and go sailing, just what else might he persuade her to do?
MEN ON FIRE also contains:
"The Firefighter Wears Prada" by Rachelle Chase
When fashion designer Delta Ballantyne asks firefighter Evan Marshall to model her sexy line of men's underwear, she can't stop the sizzling fantasies, beginning with sophisticated foreplay...
"Playing With Fire" by Jodi Lynn Copeland
Ever since Erica Donelson's ex-husband left her, his former best buddy, firefighter Lincoln Gabriel, has been there for her. But before long, their warm friendship heats up to a burning lust that won't be denied.