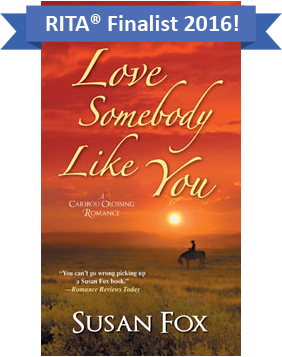 Love Somebody Like You
The Story | Excerpt | Praise | Behind the Scenes | Discussion Guide (PDF) | Recipes | Buy the Book
BEHIND THE SCENES
I introduced Sally Ryland in Love Me Tender, and the moment she appeared on the page (well, actually on my computer screen) I knew she was a complex and intriguing woman who would deserve her own romance one day.
Sally was the victim of domestic abuse. I know that many women, myself included, have trouble understanding how someone would let herself (or himself) get in the position of being abused, and not walk away. And yet it happens, over and over again. It's an insidious trap, and it doesn't happen only to people who are weak-willed or insecure. That was what I wanted to show with Sally.
As a young woman, she was no shrinking violet. She was a rodeo star, a barrel racing champion, a woman who traveled around the country by herself with only her horse for company. She hung out with the other cowgirls and cowboys, and was popular and outgoing.
But then… She met one of those larger-than-life guys who swept her off her feet. And her life changed. I won't spell out the details here. For that, you're going to need to read the book!
Suffice it to say that by the time her husband died of a heart attack after several years of marriage, Sally was very different from the feisty rodeo champ she'd once been. She was deeply wounded. Though she was strong and competent in her work with horses, as a woman she was fragile, wary, and completely lacking in self-confidence.
Could she ever trust another man? If so, it had to be a very special guy.
And Ben Traynor is. A rodeo rider himself, Sally knew him back in the day and had seen that he was a good guy—if a little too sexy and cocky for his own good. That past relationship is the only reason that she accepts the more mature Ben's offer to help her out while he recovers from a rodeo injury.
Of course it's more than Ben's broken shoulder that heals as the two work side by side, share memories, and come to care for each other. Ben takes extra special care with Sally's wounded soul and she gradually comes to an understanding of what happened in her marriage, as well as new confidence in the woman she's in the process of becoming.
Theirs is a tender love story as well as a passionate one. I loved every moment of bringing it to life, knowing that as Sally and Ben worked through their fears and insecurities, they would become stronger people who would find their happy ending together.
Soundtrack from Love Somebody Like You
Merle Haggard — "Workin" Man Blues"
George Strait — "Check Yes or No"
Blake Shelton — "Honey Bee"
Tim McGraw — "Lookin" For That Girl"
Kenny Chesney — "Come Over"
Keith Urban — "Somebody Like You"
Kenny Rogers — "The Gambler"
Lady Antebellum — "Just a Kiss"
Waylon Jennings — "Mamas Don"t Let Your Babies Grow Up to Be Cowboys"
Kip Moore — "Hey Pretty Girl"
Brad Paisley — "She"s Everything"
Willie Nelson — "Georgia On My Mind"
Vince Gill — "Ridin" the Rodeo"
The Caribou Crossing Series