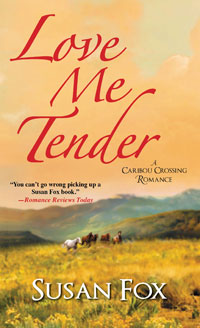 Love Me Tender
The Story | Excerpt | Praise | Behind the Scenes | Discussion Guide (PDF) | Recipes | Buy the Book
BEHIND THE SCENES
I was so excited to write this book. When I introduced Jess's ex-husband Dave Cousins in Home on the Range, I knew he had to have a romance of his own. But he wasn't ready, and it would take a very special woman.
After all, Dave was not only the heart of Caribou Crossing—the nicest guy in town, as everyone said—but his own heart was seriously damaged by his fiancée's death. Everyone worried about him but no-one knew how to heal him. In fact, Dave was convinced that his fiancée had been the love of his life; his heart belonged to her, and he would never love again.
Dave played a significant role in Gentle on My Mind and then again in Stand by Your Man, proving what a wonderful friend he was, as well as a terrific if rather overprotective father. I've had more than one reader write to me, begging for Dave to have his own story.
Finally, I figured the right time had come. Now it was a matter of finding the right woman.
He needed someone who would shake him up, drag him out of his rut, brighten up his life. So I sent him a free-spirited drifter, Cassidy Esperanza. A girl who, for her eighteenth birthday, got a tattoo of a wild goose flying with the moon on its wing – a symbol of her own desire to fly free and wild. In the eight years since then, she had never had the slightest desire to settle down, and she figured she never would.
I knew from the first time I "met" Dave that his biggest challenge would be moving past his fiancée's death and having the courage to love again. Cassidy, too, needed to grow and to admit that she secretly did long for a happy home life and some stability, and that she had the guts to go after it.
Character growth usually happens when something major shakes us up. For Dave and Cassidy, meeting each other was major, but they needed something even more: a crisis that would test them as individuals and as a couple. So, part-way through the book, I gave Cassidy a medical diagnosis that would change her life. Dealing with that diagnosis would be a test of courage for both her and Dave—and the catalyst for their deepening feelings for each other.
If love can grow in times of crisis, that's a pretty good indication that it will stand the test of time, don't you think?
Soundtrack from Love Me Tender
Elvis Presley — "Love Me Tender"
Faith Hill — "Breathe"
Shania Twain — "Any Man of Mine"
Diana Krall — "All or Nothing At All"
Diana Krall — "'S Wonderful"
Kacey Musgraves — "Silver Lining"
Stompin' Tom Connors — "Sudbury Saturday Night"
Taylor Swift — "I Knew You Were Trouble"
Willie Nelson — "Always on My Mind"
Blake Shelton — "Mine Would Be You"
Soundtrack from The Sound of Music
The Caribou Crossing Series