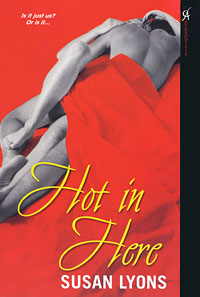 Hot In Here
The Story | Excerpt | Praise | Foreign Editions | Behind the Scenes | Discussion Guide (PDF) | Recipes | Buy the Book
BEHIND THE SCENES
I already knew Jenny, from Champagne Rules. I knew she was Chinese-Canadian and had two lives: good Chinese daughter at home; outside the house, a thoroughly modern Western woman who pushes the envelope. I knew she'd meet a guy who would challenge her ability to maintain those separate lives. But who was he?
It was gal-pals of my own who pointed me in the direction of firefighters. And when you say the word "firefighter", what springs to mind? For a lot of us females, calendar! And how about a calendar competition? Wouldn't you want to go home with the winner? And so Jenny begins a steamy secret romance with Mr. February.
Why are theirs the Fantasy Rules? Jenny has identity issues — and where better to escape them than by playing out her and Scott's wildest fantasies? After all, he's not a parent-approved Chinese boy, so it's not like she'd ever have a real relationship with him. Right?