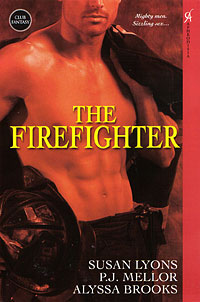 Hot Down Under in The Firefighter
The Story | Excerpt | Praise | Behind the Scenes | Discussion Guide (PDF) | Recipes | Buy the Book
RECIPES
Mick's Mom's Chocolate Cake
A recipe the whole family loves – and so does Tash, the first time she's invited for dinner.
Ingredients:
3 oz. semisweet unsweetened chocolate
8 tbsp. unsalted butter
1 tbsp. instant coffee (optional)
1 c. boiling water
1 tsp. vanilla
2 c. white sugar
2 eggs, separated
1 tsp. baking soda
1/2 c. sour cream (not the "lite" kind)
2 c. minus 2 tbsp. white flour, sifted
1 tsp. baking powder
Preheat oven to 350 degrees F. Butter and lightly flour a 10" tube/bundt pan.
Put chocolate, butter (and instant coffee, if desired) in a bowl. Pour boiling water over them and let stand until melted. Stir in vanilla and sugar. Whisk in egg yolks one at a time, blending thoroughly. Stir baking soda into sour cream, then add sour cream to bowl and mix thoroughly. Beat egg whites until stiff. Stir 1/4 of egg whites into the batter in the bowl, then fold the rest in. Pour batter into the tube pan. Bake for 40 to 50 minutes, until a toothpick comes out clean. Cool 10 minutes in the pan, then invert on a cooling rack, unmold, and cool completely.
If desired, dust with icing sugar, glaze with melted chocolate, or frost with chocolate icing (see recipe below).
Chocolate Icing
Ingredients:
3/4 c. semisweet chocolate chips
2 tbsp. unsalted butter
1 tsp vanilla
1 tbsp. instant coffee (optional)
6 tbsp. whipping cream
1 1/4 c. icing/confectioner's sugar
Combine all ingredients in a heavy saucepan and heat over low heat, whisking together until smooth. Cool slightly. If necessary, add more icing sugar to reach the desired spreading consistency. Frost cake while icing is warm.