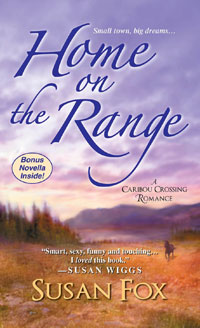 Home on the Range:
A Caribou Crossing Romance
The Story | Excerpt | Praise | Foreign Editions | Behind the Scenes | Discussion Guide (PDF) | Recipes | Buy the Book
RECIPES
The Crazy Horse Ranch's Strawberry Shortcake
This country-style recipe uses sweet biscuits rather than sponge cake. It makes 8 servings.
Filling
1 quart strawberries
white sugar
(optional: strawberry liqueur, Grand Marnier, Amaretto, or other nut or fruit liqueur)
1 1/2 cups whipping cream
1 tsp vanilla
Hull and slice the berries. Sprinkle on sugar, depending on the sweetness of the berries. If desired, add liqueur. Let sit at room temperature for an hour.
Whip cream with vanilla, until it forms soft peaks. (If desired, add sugar.) Refrigerate.
Biscuits
2 cups all-purpose flour
1 tbsp baking powder
1/2 tsp salt
3 tbsp white sugar
1/4 lb butter, chilled
2/3 to 3/4 cup half and half, chilled
additional white sugar
Preheat oven to 425 degrees. Combine flour, baking powder, salt, and sugar. With a pastry cutter, two knives, or a food processor, cut in the butter until the mixture resembles coarse meal. Make a well in the center and, using a fork, mix in 2/3 cup half and half, just until the mixture is moist. If necessary, add more half and half, but don't overwork the mixture. It won't all cling together at this point. Turn out on a lightly floured surface and knead gently a few times until it holds together. Pat out to a thickness of about 3/4" then cut 8 biscuits with a round floured cutter approximately 3" across. Place on a buttered foil-lined cookie sheet. Brush the tops with half and half, and sprinkle with sugar. Bake in the middle of the oven for 10 to 15 minutes, until they rise and are golden brown. Remove from the cookie sheet and put on a rack.
Depending on your preference, either assemble the shortcake while the biscuits are warm, or wait until they cool to room temperature. Slice each biscuit in half horizontally, spoon strawberries over the bottom half, put the top half on, spoon more strawberries on top, and finish off with whipped cream.