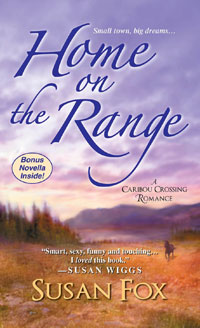 Home on the Range:
A Caribou Crossing Romance
The Story | Excerpt | Praise | Foreign Editions | Behind the Scenes | Discussion Guide (PDF) | Recipes | Buy the Book
When I was a kid, my parents sent me to lessons — piano, figure skating, art, dance, and horseback riding — no doubt hoping I'd demonstrate talent in at least one of those areas. Well, nope, that didn't prove true, though I enjoyed all of those things. What I did develop was an enduring love of horses. My dad shared it, and often when we traveled we'd go riding together — sometimes in BC's scenic, historic Cariboo region.
When I was grown up, a city-dweller, I felt a craving for countryside and horses, and went back to the Cariboo. I treated myself to a "riding package" week at a wonderful resort ranch and spa called The Hills Guest Ranch. I loved it, and thought it would make a perfect setting for a romance. Years later, that idea was still in my mind, and led to Home on the Range.
The Crazy Horse in the book is definitely not The Hills, but I did borrow freely from some of the wonderful features of The Hills, including their marvelous food, terrific riding program, and hay ride sing-along evenings.
The town of Caribou Crossing doesn't actually exist. No actual town seemed just right for the stories I had in mind, so I created one. It's a composite of a number of small towns in the interior of British Columbia. Set along the old Cariboo Wagon Road, it has a gold-mining history and now its economy is based on ranching and tourism.
A note on names. There's an animal called a caribou, which the region was named for. But the spelling of the region is Cariboo. (It's that kind of thing that makes copy-editors tear their hair out!)
Another note on names. My original town name was Whiskey Creek, but after I'd sold my proposal to Kensington, Brenda Novak came out with her Whiskey Creek series. My fallback name was Fool's Gold — but Susan Mallery came out with her Fools Gold series. Great minds, right? Anyhow, when I hit on Caribou Crossing, it seemed just right — not to mention it works perfectly for a plot point in the third title in the series, Gentle on My Mind.
Being at The Hills made me muse about the differences between country and city, and the kinds of people who identify soul-deep with each one. Complete opposites, in so many ways. So I thought of an "opposites attract" story — but with a twist. Usually, my muse has led me to write about strangers who meet and fall in love, but this time she pointed me in the direction of a reunion story. Writing about a couple with a shared past opens up different possibilities from when I write about two people who have just met.
What if two kids grew up as best friends, maybe started to fall for each other as teens — and yet always knew their futures lay in opposite directions? Jess was the horse-lover to end horse-lovers; Evan couldn't wait to shake the dust of "Hicksville" from his polished loafers and take a bite out of the Big Apple.
But then, what if chance brings them back together ten years later, each guarding a huge, potentially trust-shattering secret? What if the attraction is still there, even stronger — but the chance of a future together seems just as impossible as it always did?
Those are the "what ifs" I played with, as Jess and Evan revealed their story through my busily typing fingers.
Of course I fell in love with both Jess and Evan, but also with some of the secondary characters. Jess's parents are a true "salt of the earth" couple with a long, happy marriage, and when I had a chance to tell about the early days of their marriage — and the work that went into making it so stable and loving — I was delighted. That story is Caribou Crossing.
One of the huge factors that shaped Evan's life was his dysfunctional parents, and particularly his mother. She was one of the huge reasons he was driven to leave town, and a huge reason that he didn't want to return. But I love redemption stories, and Evan's mom Brooke has turned her life around by the time he comes back. One of the subplots in Home on the Range is whether Evan will ever reconcile with her, and I sow those seeds at the end of the book. I desperately wanted to tell Brooke's story, to test her new strength and to send her romance, and I got that opportunity in Gentle on My Mind.
I've had a wonderful time getting to know Caribou Crossing, and telling its stories. I hope this series continues, and I get to write it for a long time! And I hope you enjoy reading the Caribou Crossing Romances.
The Caribou Crossing Series