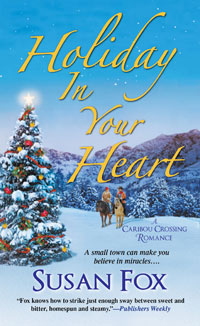 Holiday In Your Heart
The Story | Excerpt | Praise | Behind the Scenes | Discussion Guide (PDF) | Recipes | Buy the Book

RECIPES
Raisin Pie
Maribeth loves to cook and to entertain. Here's one of the treats she serves her friends on a chilly winter evening.
Ingredients
pastry for a pie shell and a lattice crust, using your favorite recipe
grated rind of 2 or more oranges
1 1/2 cup orange juice
3 cups Thompson raisins
3/4 cup brown sugar
2 tbsp cornstarch
1 tsp cinnamon
1/2 tsp nutmeg
1 tbsp butter
1 tbsp lemon juice
Instructions
Combine raisins and all but 3-4 tbsp of orange juice in a saucepan and cook about 10 minutes at a relatively low heat.
Mix brown sugar, cornstarch, cinnamon and nutmeg with the reserved 3-4 tbsp orange juice and then add to the raisin mixture. Cook 5 minutes or until thick.
Stir in the butter, lemon juice and orange rind and remove the saucepan from the heat. Let the filling cool slightly before pouring into the pie shell.
Preheat oven to 450 degrees Fahrenheit.
Roll out pastry for the bottom pie shell and put in a pie pan. Roll out pastry for the lattice and cut into strips. Pour the filling into the shell and weave the lattice on top.
Bake at 450 for 15 minutes then lower the temperature to 350 and bake an additional 20-25 minutes.