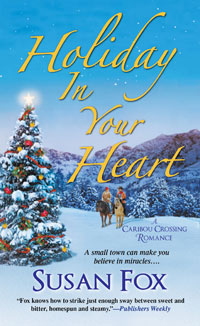 Holiday In Your Heart
The Story | Excerpt | Praise | Behind the Scenes | Discussion Guide (PDF) | Recipes | Buy the Book

BEHIND THE SCENES
Maribeth Scott, owner of the thrift shop Days of Your, has featured in previous Caribou Crossing stories and I knew that one day I wanted to write her story, but I wasn't sure what that story would be . . . until this thought came to me. Just because a woman's attractive and popular, that's no guarantee she'll find true love. And what's she to do when she's thirty-nine and the one thing she's most wanted, for her entire life, is to be a mom? Maribeth, who's seen her parents' and her grandparents' loving marriages, will not settle for less than that. So, with no man on the horizon and her biological clock ringing its alarm, she decides on artificial insemination.
Now, of course that would be exactly the right time to meet Mr. Perfect, wouldn't it? But if I'd let that happen, there'd have been no story. She needed Mr. Imperfect, to shake up her plans.
There's no man I've written about who is less perfect than Mo Kincaid, a man I introduced right at the beginning of the series. He is Evan's father and Brooke's ex-husband—the abusive dad who ran out on his family the day the police came calling. His wife and son wrote him off. But you know what? He stuck around in my mind.
I love redemption stories. Brooke's (in Gentle on My Mind) is that kind of story. She too was an abusive parent and she turned her life around completely when she was diagnosed with bipolar disorder and joined A.A. to cope with her alcoholism. If Brooke could redeem herself, why couldn't Mo?
Well, of course he did, and so he returns to Caribou Crossing to see if his ex and his son will let him apologize, and if there's any way he can make amends for his horrible behavior all those years ago.
He's a man who can fix anything with an engine, but he avoids relationships because he pretty much destroyed every one that ever mattered to him. He believes in treading lightly on this earth, doing no more harm. He certainly doesn't believe that he'll ever find love, nor that he deserves to.
He's the opposite of vibrant, outgoing Maribeth. What a perfect guy to mess up her life—just as she messes up his hard-shelled heart!
And what better theme for a Christmas story than showing that redemption, hope, and love are possible for even a seriously troubled soul?
On a serious note, domestic abuse is a pervasive and widespread problem. It does not discriminate by gender, age, education, occupation, race, religion, or sexuality. It can take many forms, from emotional/psychological abuse (such as belittling and controlling) all the way to murder (of the victim or of the abuser). Domestic abuse has had a powerful impact on a number of the characters in the Caribou Crossing series. Former rodeo champion Sally Ryland, fire chief Lark Cantrell and her mother, and investment counselor Evan Kincaid were all victims of abuse. Brooke Kincaid was both a victim and an abuser. Mo Kincaid was an abuser.
If domestic abuse has touched your life, or that of a friend or family member, please know that there are many, many resources available to assist. In an emergency situation, call 911 or any other local emergency service. Otherwise, good places to start are with the HelpGuide.org website and that of The National Domestic Violence Hotline (thehotline.org; or loveisrespect.org for teens). There are resources including shelters, support groups, and counselors in most communities. You can search on the Internet using terms such as domestic abuse (or violence) services (or resources or shelters) plus your geographic location.
I believe in rehabilitation and redemption, but I know it's a tough road and takes a strong and committed person—people like Mo and Brooke. It also most often takes professional help. For domestic abusers, the best source of help is a batterer intervention program. These can also be located through an Internet search. Other resources such as counseling and A.A. may also be useful.
If a former abuser has reformed and apologized, it is up to the former victim whether to offer forgiveness. A person should never feel pressured or obligated to forgive, although forgiveness that is genuinely given can be a part of an individual's healing process.
Brooke, Evan, and their families do find it in their hearts to not only forgive Mo but to accept him into their families. And Maribeth, as she comes to know the man Mo has turned into, can't help but love him. In some ways, Mo's biggest challenge is to forgive himself, to let go of the past and move forward with love in his heart.
The Caribou Crossing Series