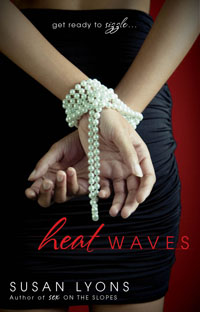 Heat Waves
The Story | Excerpt | Praise | Behind the Scenes | Discussion Guide (PDF) | Recipes | Buy the Book
Here's what reviewers say about Heat Waves
"The heat is on all right and the couples aboard the Aphrodite — the Greek version of the Love Boat — are doing all the sizzling, even without the cruise ship's specialty drink, the Heat Wave. These two novellas dovetail neatly, with overlapping scenes, couples and plot all leading to a startling and satisfying conclusion. Lyons fans get a healthy serving of sex, mystery, tourism and wit, as well as charming supporting characters who add depth to an engaging read."
– Pat Cooper, RT BookReviews, 4 stars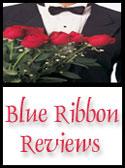 "Mix yourself a Heat Wave (the recipe is even provided in the beginning of the book), pull up a chair and settle in for a romantic read that will melt your heart and capture your imagination. Like Ms. Lyons other Destination Wedding books, SEX ON THE BEACH and SEX ON THE SLOPES, this title combines an exotic location with the romanticism of a wedding and the results are positively breathtaking. The characters are realistically flawed which makes them extremely easy to relate to and endears them to the reader. Susan Lyons does an amazing job bringing these stories to life in an entertaining way that captures the imagination and gives the reader reason to smile."
– Chrissy Dionne, Romance Junkies (5 blue ribbons)
"Susan Lyons has created a perfect blend of interesting characters, romance, intrigue and, of course, hot sex."
– Holly Tibbs, Romance Reviews Today
"This anthology contains two interrelated novellas starring two lead couples and a Love Boat of support. The romances are top rate, but it is the stolen money that provides the spice to a strong romantic suspense with a terrific late unexpected twist."
– Harriet Klausner
"'Rock the Boat' is blazingly hot with an abundance of steamy sex, yet also tenderly poignant with heartrending moments. 'Making Waves' is intriguing with a fascinating mystery while the passionate romance repeatedly heats up the pages."
– Amelia Richard, Sensual Reads, 5 stars
"Heat Waves is a sizzling erotic feast."
– Miranda, Joyfully Reviewed
Winner
Booksellers Best Award sponsored by Greater Detroit RWA

Finalist in:
First Coast Romance Writers Published Beacon, 2nd place
Write Touch Contest sponsored by the Romance Writers of America, Wisconsin

"Ms Lyons sure knows how to get a reader invested in the story. It was also interesting to see how the four main characters grow and change throughout the one-week trip, the way being in a relationship would change anyone, especially when you realize how much the other person has come to mean to you… I am simply amazed by how the author made the two stories come neatly together in a way that made this novel a seamless read. Kudos for the great plotting and character development!...That it is set in Greece is a bonus. I kept salivating over the food that were described, as well as the places the characters went to. The descriptions were so real and vivid I felt I was there myself. HEAT WAVES is a great addition to Susan Lyons' destination wedding series and is a must read for fans and new readers alike."
– Shana Rea, The Romance Reviews
"Heat Waves is a novel that includes two sexy tales with characters that are linked to each story within the pages. While Rock the Boat introduces us to the main characters and the major plot that links these two tales, it is Making Waves that makes Heat Waves so memorable. The passion and dynamics between Kendra and Flynn are brilliantly done and it really complements the issues that Gwen and Santos have in the first story of this novel. Ms. Lyons has written this novel beautifully. If you have not read one of her books before, this book will make you an instant fan."
– Danielle, Coffee Time Romance & More
"HEAT WAVES is a anthology that spins off from two of Susan Lyon previous books (which are as hot as this title) Sex on the Beach and Sex on the Slopes. The characters are fun and involved with steamy scenes and enough back story to keep you interested in the outcome. A fun and hot read."
– Mandy Burns, Fresh Fiction