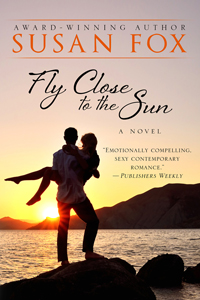 Fly Close to the Sun
The Story | Excerpt | Behind the Scenes | Recipes | Buy the Book
RECIPES
Horiatiki or Village Salad
Ingredients:
You can vary the ingredients depending on what's fresh. In Greece, you"ll often find lettuce or cabbage in the salad as well as the ingredients below.
4-5 ripe tomatoes
1 cucumber
1-3 green bell peppers
1 red onion
1/4 lb Greek feta cheese
Greek olives (as many as you want)
3 tbsp Greek olive oil
1 tbsp red wine vinegar
dried Greek oregano (at least 1 tbsp, or more if desired)
fresh ground pepper (to suit your taste)
Cut the tomatoes and cucumber into medium-sized chunks. Slice the seeded green pepper into rings. Slice the onion into thin rings. Combine the vegetables in a salad bowl. Add the olives. Top with the feta cheese, either crumbled or cut into slices. Sprinkle with oregano. Combine the olive oil, wine vinegar, and pepper, and drizzle over top of the salad.
Serve for lunch or as a dinner appetizer, with fresh warm buns or pita bread. And, of course, Greek wine!