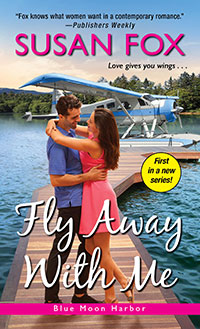 Fly Away With Me
The Story | Excerpt | Praise | Behind the Scenes | Discussion Guide (PDF) | Recipes | Buy the Book
RECIPE
Raspberry-Oat Muffins – with Chocolate Chips!
Bernie Barnes, who with her husband owns the Once in a Blue Moon B and B, includes these muffins in her breakfast smorgasbord. They're a favorite of heroine Eden Blaine.
Ingredients
1 1/2 cup oats (not quick-cooking ones)
1 1/4 cup buttermilk or sour milk
3/4 cup bran
3/4 cup whole wheat flour
1 tsp baking soda
1 tsp baking powder
1/2 tsp salt
1/2 tsp cinnamon
1/2 cup demerara sugar
1/3 cup canola oil
1 egg
1 1/4 cup fresh or frozen raspberries
mini chocolate chips
Directions
Preheat oven to 375 Fahrenheit. Put muffin liners in muffin pan.
Combine oats and milk/buttermilk and let stand. Combine bran, flour, baking soda, baking powder, salt, cinnamon and sugar. Beat egg lightly and mix with oil. Stir into oat/milk mixture. Add oat/liquid mixture to dry ingredients, mixing only enough to combine. Gently fold in raspberries and chocolate chips. Bake 18-25 minutes. Makes 12 medium-sized muffins.
Find lots more recipes from my other books.