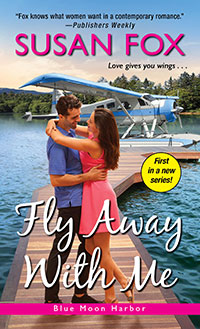 Fly Away With Me
The Story | Excerpt | Praise | Behind the Scenes | Discussion Guide (PDF) | Recipes | Buy the Book
BEHIND THE SCENES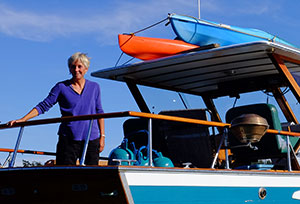 While I was still writing the Caribou Crossing Romances, we were spending a good part of the summer cruising around the British Columbia Gulf Islands in our old wooden motor boat. Growing up in Victoria, the ocean's always been part of my life—and once upon a time I even had a job that regularly took me to the Gulf Islands. There's something intriguing about small islands, don't you think?
Anyhow, I had a craving to write about this part of the world: the rugged, gorgeous scenery; the eccentric characters; and of course the romances that can develop in such an unusual setting.
I proposed naming the series after my fictional island,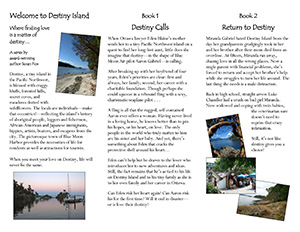 Destiny, and including the word "destiny" in each book title—as you'll see from the original "one sheet" that summarized the proposal. Well, my publisher agreed to buy the first couple of titles in the series, but preferred the name Blue Moon Harbor to Destiny Island, and so a series was born!
Having created Destiny Island and Blue Moon Harbor, I knew that I wanted the first book in the series to showcase the island's amazing scenery and eccentric characters. How best to do that?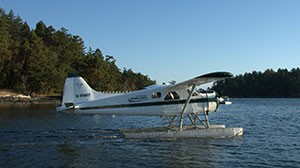 Well, I love flying in a seaplane—so much more than in those giant claustrophobic sardine can jumbo jets. So what better hero than an outdoorsy, laid-back guy who loves to fly and owns the local seaplane business? I thought it would be fun to pair him with a "fish out of water" super-responsible, organized lawyer from a big city back east. I figured it would be fun for Aaron Gabriel to show Eden Blaine his part of the world and try to get her to loosen up a little—and of course for the two of them to start falling for each other at the same time.
Now, what might bring Eden to a dot-on-the-map island off the West Coast of British Columbia? It's not at all uncommon for "old hippies" to make their homes on these islands, and I'm sure that, back in the day, there was a commune or two. So I decided to send Eden on a mission to track down her mom's long-lost teen runaway sister—after her mom (going through her own deceased mother's belongings) found a clue tying her sister to the old commune on the island. But why couldn't her mom make the trip herself? Because she's frail, recovering from breast cancer.
Having had a mom who went through a battle with cancer (ovarian in my mother's case, and yes, she did survive), I know how traumatic the experience can be for the entire family. So I made Eden a woman who puts family first, a woman who'd do anything for her ailing mother. Eden's tie to her parents, as well as to a job she loves, makes her very rooted to her Ottawa home.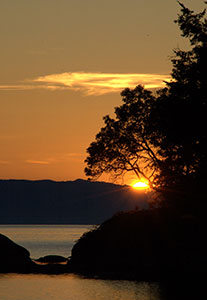 Which means, if she and Aaron fall for each other, she wouldn't just up and move to Destiny Island. But why couldn't Aaron move to Ottawa? In part, it's that, as Eden says, he's an eagle: he belongs in the Pacific Northwest and she can't imagine him anywhere else. But also, he has his own family ties, to his younger half sister and her young daughter. Aaron and Miranda grew up under incredibly dysfunctional circumstances and have an unbreakable bond, and when she admits that her life is messed up and she needs his help, of course he wants to be there for her.
A satisfying romance novel needs conflict, right? So yes, I gave Aaron and Eden their fair share of it. There are times when it seems simply impossible for them to find a way of being together. But does that mean they should walk away from love? You and I both know the answer to that question!
I hope you'll join both of them on their journey.
The Blue Moon Harbour Series
Fly Away With Me (novel; Eden and Aaron)
"Blue Moon Harbor Christmas" in Winter Wishes (novella; Jillian and Michael)
Come Home With Me (novel; Miranda and Luke)
Sail Away With Me (novel; Iris and Julian)