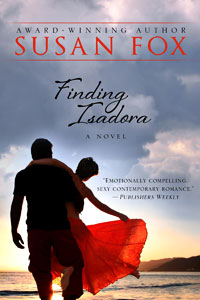 Finding Isadora
The Story | Excerpt | Behind the Scenes | Discussion Guide (PDF) | Recipes | Buy the Book
RECIPES
Isadora's Quinoa Salad
Ingredients:
2 cups of cooked quinoa (white or red)
1 red pepper – slice thinly
2 oranges – capture the zest then dice the oranges
1 clove garlic – minced
3 green onions – slice thinly
1/2 cup Thompson raisins
3/4 cup crushed almonds
1/4 cup cilantro – chopped
1 tsp cumin
3 tbs. olive oil
2 tbs. lemon juice
Cook the quinoa and let it cool. Mix in all the other ingredients and refrigerate. This salad is een better the second day, as the flavors come together.
Isadora's Chocolate Walnut Squares
Crust:
2 cups all purpose flour
1 cup brown sugar (loosely packed)
3/4 cup cold butter
Filling:
1 cup chopped walnuts
3/4 cup brown sugar (loosely packed)
3/4 cup butter
1/2 cup sweetened condensed milk
Topping:
2 cups (300 g) chocolate chips (semisweet is recommended, but use whatever you prefer)
Preheat oven to 350.
For the crust: Cut the butter into chunks and put into a food processor with the flour and brown sugar. Pulse for approximately 30 seconds until it's a mealy texture. You can also do this in a bowl with a pastry cutter or two knives. Pour the mixture into an ungreased 9" x 13" baking pan. Press it down as firmly as you can. Bake 15 minutes, until light golden.
For the filling: Toast the chopped walnuts on a baking sheet in the oven until they're golden. Spread them over the cooked crust. Combine the butter, brown sugar, and sweetened condensed milk in a small saucepan and cook over medium heat, stirring so it doesn't stick to the bottom and burn. When it bubbles to a boil, remove from the heat. Pour it over the walnuts. Bake 15-20 minutes, just until the edges start to brown slightly and the filling is bubbly. Don't overcook or it will harden.
For the topping: As soon as you take the squares out of the oven, sprinkle the chips evenly over the top. Let them sit 5 minutes to soften, then use a knife to spread the melted chocolate into an even layer.
Let the squares cool at room temperature. Cut into squares with a sharp, thin-bladed knife. They're very sweet, so keep the squares small. Then refrigerate. (Or eat!)