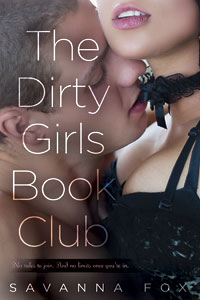 Dirty Girls Book Club
The Story | Excerpt | Praise | Behind the Scenes | Discussion Guide (PDF) | Recipes | Foreign Editions | Buy the Book
RECIPES
Linguine Alfredo
This is a simple but rich dish that Georgia and Woody prepare in his apartment.
Ingredients:
1 clove garlic or 1 shallot, minced
2 tbsp butter
1/2 to 2/3 cup heavy cream (depending on how thick versus moist you want it)
3 tbsp minced fresh parsley + 3 tbsp minced fresh parsley
1/4 cup grated Parmesan cheese + an additional tsp to tbsp
2 cups cooked linguine
salt and pepper
Put linguine on to cook (cook al dente; don't overcook). While it's cooking, prepare the alfredo sauce as follows. Melt butter and sauté garlic/shallot. Stir in cream and 3 tbsp minced parsley. Bring to a boil, stirring, then turn down to medium and cook until the mixture thickens and reduces slightly (about 3 minutes). Remove from the heat and stir in 1/4 cup Parmesan until it melts. Toss the sauce with the warm linguine. Sprinkle with salt, pepper, the extra Parmesan, and the second 3 tbsp parsley. Serve immediately. (Adjust quantities as desired - e.g., more or less parsley and Parmesan.)
This is a perfect lunch dish with fresh bread and a glass of wine, or it can be a dinner entrée or dinner side dish.