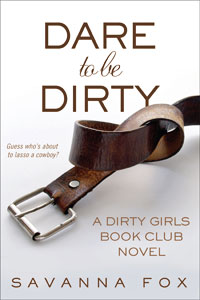 Dare to be Dirty
The Story | Excerpt | Praise | Foreign Editions | Behind the Scenes | Discussion Guide (PDF) | Recipes | Buy the Book
RECIPES
Ty's Beef Kabobs
Ingredients:
Marinade:
1 c. dry red wine
4 tbsp red wine vinegar
2 tbsp olive oil
4 tbsp soy sauce
2 tbsp honey
4 tbsp minced garlic
2 tbsp Worcestershire sauce
2 tbsp chopped fresh parsley, rosemary, thyme, oregano, basil (whatever herb or combination you prefer — or substitute dried if fresh isn't available)
1 tsp black pepper
2 small green onions, chopped


Beef sirloin, cubed
Pearl onions (or chunks of cut-up onion), chunks of sweet peppers, mushrooms etc. as desired
Combine all the marinade ingredients and put in a ziplock bag together with the cubed beef. Marinate in the refrigerator from 8 to 24 hours.
Thread the meat cubes and vegetable chunks alternately on skewers. (If using wooden skewers, soak them first.) Grill skewers (or broil in oven) until cooked to desired degree.