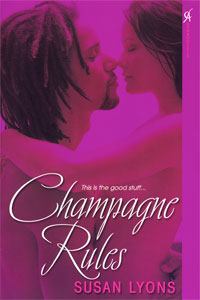 Champagne Rules
The Story | Excerpt | Praise | Foreign Editions | Behind the Scenes | Discussion Guide (PDF) | Recipes | Buy the Book
RECIPES
Jenny's Double-Chocolate Brownies
When the Awesome Foursome has a potluck dinner to draft Suzanne's internet personals ad, Jenny brings these brownies.
Ingredients:
2 c. semisweet chocolate (chips, squares, or bulk chocolate)
2/3 c. unsalted butter
4 eggs
1 c. sugar
1 tsp. vanilla
1/2 c. all-purpose flour, sifted
1 tsp. baking powder
1 c. semisweet chocolate chips or chunks
1/2 c. pecans or walnuts, coarsely chopped
In the top of a double boiler set over simmering water, melt 2 c. chocolate and the butter, stirring until smooth, then remove from heat. Using an electric mixer, beat eggs and sugar until creamy, then beat in vanilla. Beat in the chocolate/butter mixture. On low speed, add flour and baking powder and blend well. Remove beaters then fold in 1 c. chocolate chips/chunks and chopped nuts. Pour into a greased 9" x 13" pan.
(Coffee variation: Dissolve 2 tbsp. strong instant coffee powder in 1 tbsp. hot water and add when melting the chocolate and butter.)
Bake at 350 degrees F for 25 minutes.
Cool completely, then cut into squares.