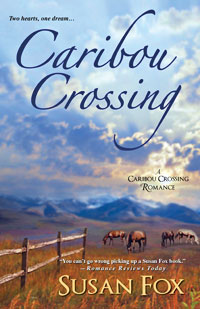 Caribou Crossing
The Story | Excerpt | Praise | Foreign Editions | Behind the Scenes | Discussion Guide (PDF) | Recipes | Buy the Book
RECIPES
Miriam Bly's Meat Loaf
Ingredients:
Loaf
2 lb ground meat (all beef; half beef and half pork; or a combination of beef, pork and veal)
3 slices fresh bread (white or whole grain), crumbled
1 medium onion, chopped
1 garlic clove, minced
1 stalk celery, chopped (optional)
1 carrot, chopped (optional)
1 large egg, lightly beaten with a fork
1/2 c. ketchup
1 tbsp Worcestershire sauce
1 tbsp your favorite mustard
1 1/2 tsp salt
1 tsp pepper
1 tbsp dried herbs (parsley, oregano, thyme, whatever you like best)
1 c. grated cheddar cheese
Glaze (optional)
1/2 c. ketchup
2 tbsp brown sugar
Combine all the loaf ingredients until mixed thoroughly. Pack into a loaf pan. Combine the glaze ingredients and spread over the top. Bake at 350 degrees for 1 1/4 hour. Let stand for 10 minutes before removing from the pan.
Serve hot with mashed potatoes and vegetables. You may choose to omit the glaze and make gravy instead.
The leftovers are great cold in meatloaf sandwiches, or sliced and fried.