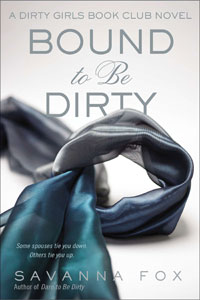 Bound to be Dirty
The Story | Excerpt | Praise | Foreign Editions | Behind the Scenes | Discussion Guide (PDF) | Recipes | Buy the Book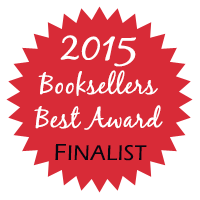 FINALIST!
Booksellers' Best Award for erotic romance
Here's what reviewers say about Bound to Be Dirty
"BOUND TO BE DIRTY has appealing characters, genuine feelings and blazing sensuality... [It] can be sensually titillating one moment then quickly turn emotionally heartrending... When it comes to creating believable situations where a wide variety of feelings are conveyed, Savanna Fox can be counted on to deliver a captivating story every time."
–Amelia Richard, Sensual Reads
"Most romance novels focus on the 'getting to know you,' and in a way that's what Bound to be Dirty was about too. I liked that it was a couple who was already in love, but finding out if they were still in love. I wouldn't mind reading more romances ike this, a sort of 'what happens after the 'happily ever after'?' I felt that Ms. Fox did a great job of describing the characters and their relationship, and really draw the reader in on an emotional level... I felt that this was a story where the hero and heroine didn't need each other, but they learn that they truly want each other, and are willing to do what it takes to make things work. I found the struggle to make a relationship work and communicate very genuine... If you're looking for an erotic romance with a fresh perspective and hero and heroine, you've found it in Bound to be Dirty."
–Lime Cello, Heroes & Heartbreakers
"The Dirty Girls Book Club continues with Fox's compelling third entry, where parental influences play a large part in the relationship between Dax and Lily. As the couple explores their sexual boundaries, more important issues complicate their relationship and hamper its growth."
–Donna M. Brown, RT BookReviews
"Lily, married forever to Dax, is having thoughts that maybe her marriage is over. Dax feels the same way. However, when Dax finds the BDSM book on his wife's eReader, he thinks they might both benefit from some of the kinky stuff he finds. If nothing else, the two find the open communication required by BDSM is helpful to their own situation. The hot sex that is engendered doesn't hurt either. . . Can't wait for more in this series."
–Alberta, Manic Readers
"Savanna Fox writes a compelling story about a couple struggling to save their marriage."
–Karen, Cocktails and Books
"Bound to Be Dirty by Savanna Fox is much more than an story about eroticism enhancing Lily and Dax's marriage. It is about two people who have drifted apart over time and are now struggling to find their way back to each other. I really liked that Savanna writes about a married couple in a somewhat established relationship, the trials they are facing, and how (or if) they are coping... I'd recommend Bound to Be Dirty to any romance reader who will enjoy a hot love story involving an existing relationship that will find out new truths... with some kink in the mix to spice things up."
–Sara HJ, Harlequin Junkie
"When I began Bound to Be Dirty, I assumed it was going to be a fun and steamy story about a couple who wanted to spice up their marriage. Boy, was I wrong, kind of. Bound to Be Dirty definitely had its fun moments, and its steamy moments, but what I found here is a very moving and relatable story about a marriage in crisis, and the lengths this couple will go to in order to save it… Dax and Lily's journey was by turns nostalgic, sweet, bitter, and painful. It was not an easy path for them - rediscovering their love. But like all good things, it's worth it… Bound to Be Dirty did not deliver what I expected when I picked it up. It gave me something better. A well-developed, emotionally gripping story with relatable characters and experiences, I am so happy I gave it a try."
–Andrea Thompson, The Bookish Babes