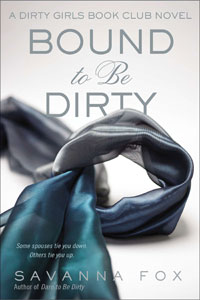 Bound to be Dirty
The Story | Excerpt | Praise | Foreign Editions | Behind the Scenes | Discussion Guide (PDF) | Recipes | Buy the Book
THE STORY
As the women in the Dirty Girls Book Club open each new selection of erotica, they also open up their minds to sexual adventure…
Lily Nyland married sexy bad boy Dax Xavier because he made her dreams come true—in bed and out. But after a decade of marriage, her helicopter bush pilot husband spends more time in the remote wilderness than heating things up in her bedroom. The best sex she's enjoyed recently comes from the Dirty Girls Book Club's erotic selections.
Still, when the club chooses Bound by Desire, Lily's skeptical. As a family practice doctor and a fiercely independent woman, the theme doesn't exactly resonate with her. But then Dax, home for the Christmas holiday, startles her by spicing up their sex life with naughty tricks that make her wonder if he snuck a peek at her book. Even more shocking, Lily finds herself turned on by their erotic experimentation. Kinky sex may be enough to rekindle the passion in their marriage, but it's going to take more than that to restore the deeper bonds of love and trust.
Don't you wish your book club read "dirty" books?
The Dirty Girls Book Club Series
1. The Dirty Girls Book Club (Georgia's story; club reads historical erotica)
2. Dare to be Dirty (Kim's story; club reads cowboy erotica)
3. Bound to be Dirty (Lily's story; club reads BDSM)