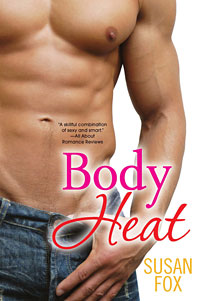 Body Heat
The Story | Excerpt | Praise | Behind the Scenes | Discussion Guide (PDF) | Recipes | Buy the Book
Here's what reviewers say about Body Heat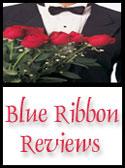 "Yes, I know a senior citizen home isn't exactly the sort of place you'd expect a romance to blossom, but let's face it, elderly people are great at speaking their minds and young people do work there. Combine the two and there's the distinct possibility for unique relationships to blossom. Susan Fox's BODY HEAT is a joy to read from beginning to end. The characters come from such different backgrounds and have differing views about life but when they come together it's like none of that matters. BODY HEAT is fun filled storyline with unique twists and turns but of course, ends with a happily-ever-after so in the end everyone's satisfied."
– Chrissy Dionne, Romance Junkies
"Fox's story has likable characters and an unusual plotline featuring a bad-boy hero doing community service at an assisted-living facility… [A]n enjoyable read."
– Joyce Morgan, RT Book Reviews
"Opposites attract in this sizzling contemporary. Maura Mahoney, an accountant angling for a promotion at Cherry Lane, a senior living facility, is leading a staid existence when she meets a hunky construction worker, Jesse Blue, assigned to community service there after too violently defending a friend from her abusive boyfriend. Despite his bad-boy, motorcycle-riding persona, he shows patience and understanding in dealing with the residents, for whom he's building a new garden. An instant mutual attraction leads to Maura and Jesse having hot fantasies about each other, but Maura is reluctant to act on hers and risk disappointing her adoptive parents. For his part, Jesse thinks the beautiful redhead is out of his league and still feels hurt by past relationships based more on sex than love. In asking whether her two sympathetic leads can overcome their personal issues, Fox will have readers fervently hoping for a happily-ever-after."
– Publishers Weekly
"Prepare to be entertained because Body Heat is a whole lot funnier than the hot cover would lead us to suspect! Hilarious characters, a motorcycle riding hottie doing community service, a reserved yet longing to be a little wild administrative assistant, leaky pipes and so much round out this very naughty, very fun book by Susan Fox... Body Heat is a supremely cute, hot romance dealing with two very different people finding one another. Jesse finds Maura at a tough time in his life and Maura encounters Jesse at the perfect moment. The waters are rough but they definitely find their perfect other half. This was the first book by Susan I have read but will not be the last. Here's hoping from a librarian in Missouri that there is a sequel!"
– Brunette Librarian
Finalist in:
Judge a Book By Its Cover, 3rd place
"BODY HEAT is about the genuine emotions stirred up when the dynamics of a relationship changes. The theme of opposites being attracted is delightfully carried out in BODY HEAT, where unanticipated feelings surface and passions continuously rise. Susan Fox manages to make her story erotic yet also emotional, as desire often clashes with personal beliefs… Ms. Fox excels at delving into the lives of her characters and exposing their innermost dreams, whether they relate to intimate longing or pertain to upcoming events."
–Amelia Richard, Sensual Reads
"The entire story is written with zingy dialogue, lighthearted and witty narrative, and characters that you can't help but fall in love with. Jesse and Maura are a little outside the box, but I think many people can relate to them and their situations on many occasions. Ms. Fox writes a great story with sizzling tension. I couldn't keep my eyes away from the pages. One of my favorite stories by this author by far! The setting, the plot, the characters, they all stole my heart."
–Sunflower, Long and Short Reviews