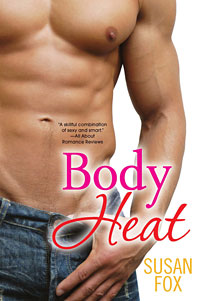 Body Heat
The Story | Excerpt | Praise | Behind the Scenes | Discussion Guide (PDF) | Recipes | Buy the Book
THE STORY
When a leather-jacketed biker rides down the avenue of pink flowering trees, Maura knows there's trouble, right here in Cherry Lane...
Maura Mahoney expects to spend her thirtieth birthday the way she's spent so many others. She'll work at the Cherry Lane retirement community, have a quiet dinner with her parents, and end the evening with a solo hot chocolate before turning in early. Sedate, but safe. Then Jesse Blue turns up at Cherry Lane, ready to do community service to avoid jail time. And suddenly, prim, by-the-books Maura can't stop thinking about a sexy, motorcycle-riding bad boy who seems wrong for her in almost every way.
But beneath his gruff exterior, Jesse is a man of surprises. He's filling the once drab community center with color and life. He's bonding with the residents. And he's prompting scorching, wild dreams Maura would never be bold enough to act on. Or would she? Because the way Jesse looks at her, Maura could swear that this heated, smoldering attraction runs both ways...