Behind the Scenes
Many readers are intrigued by the writer's creative process and ask us where we get our ideas. No, there's no "idea tree" where we can just pluck them willy-nilly! Often it's a process of hearing or reading something that sparks an idea, which leads to another idea, and in some (usually messy!) fashion it all starts coming together in a blaze of "this could be a book!" excitement.
Here's a behind-the-scenes peek at how each of my books came into being.
Wild Ride to Love
The Awesome Foursome
Body Heat
Champagne Rules
Heat Waves
His, Unexpectedly
"Hot Down Under" in The Firefighter
Hot in Here
Love Unexpectedly
"Too Hot to Handle" in Men on Fire
Sex Drive
Sex on the Beach
Sex on the Slopes
She's On Top
"Private Eyes" in Some Like It Rough
The Dirty Girls Book Club
Touch Me
"Unwrap Me" in Unwrap Me
"Tattoos and Mistletoe" in The Naughty List
Yours, Unexpectedly
Wild Ride to Love
Writers have all sorts of ideas tossing around in our heads, and scribbled in our notebooks. One that had been hanging around in my brain for a few years was that it would be fun to write a "planes, trains, and automobiles" series of romances. I think different modes of transportation are sexy in their own way. Also, travel is a journey, a transition time, and so is the development of a romance, so together I could see them making for intriguing stories.
So, that was idea 1. Idea 2 was that I loved writing series books where female relationships are part of the story (in addition, of course, to the romance and the heroine's personal growth). With the Awesome Foursome series, I had a wonderful time writing about four best friends.
Now, to idea 3: sisters. As an only child, I've always looked at the world of sisters with an outsider's fascinated eye. One of my best friends as a kid would come to school with scratches on her arms from fighting with her sister – and yet, her sister was her best friend. How could that be?
Anyhow, all those ideas wove together into the concept of the Wild Ride to Love series. Four sisters, four modes of transportation (yes, a cruise ship got thrown in there!), four very sexy romances.
Planes is the oldest sister Theresa's book, Sex Drive. Trains is second sister Kat's book, Love, Unexpectedly. Automobiles is sister Jenna's, His Unexpectedly, and the cruise ship is baby sister Merilee's, Yours, Unexpectedly (coming in Dec 2011).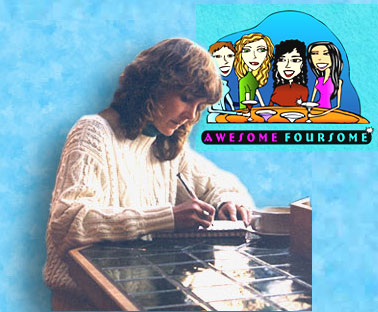 The Awesome Foursome
Don't you just love groups of 4 women? There's magic in that number "4". Look at Sex And The City and The Sisterhood of the Traveling Pants.
In my own life, I have four 4-gal groups. One's a group of friends who used to be workmates, and we've been getting together at least a couple of times a year for – oh, about 20 years. How awesome is that! Then there's my book club, where we discuss pretty much everything under the sun, even occasionally the assigned book. And then there's my writing brainstorming group, 4 authors who get together every couple of months to share crazy ideas. And, last but definitely not least, my fabulous critique group who help me make my books the best they can be.
What do all the 4-gal groups have in common? Laughter, fun and often raunchy discussions, and most important, mutual support. How can you beat that? (Oh yeah, did I mention that copious quantities of wine are also involved?)
So, I knew I had to write about a 4-gal group. And I knew I wanted these special females to live in my fabulous city, Vancouver. And to be in their twenties, because that's the fantastic time when a girl starts to figure out who she's going to be as a woman, in terms of work, family, friendships – and especially romance.
At that age, a girl's even naïve enough to believe she can actually control life with lists and rules – and flexible enough to figure out that half the fun of rules is in breaking them.
Okay, so I had four girls, the idea of "rules to have sex by", and the knowledge that each girl was going to set off on a romantic adventure, egged on by her gal-pals. So then came, Champagne Rules.