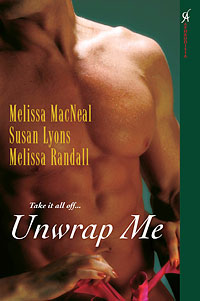 Unwrap Me in Unwrap Me
The Story | Excerpt | Praise | Behind the Scenes | Discussion Guide (PDF) | Recipes | Buy the Book
THE STORY
Jude Benedetto is a Christmas Grinch. She says the holiday is crass and commercial, but the deeper truth is a soul-deep pain over being abandoned at Christmastime. Twice. Her answer is to banish Christmas from her life.
But her girlfriend has other plans. She sends Jude a very special Secret Santa gift: hot firefighter, Nick Buchanan. Named after St. Nick, he's a huge fan of Christmas.
Waging a campaign based on "The Twelve Days of Christmas," he has twelve very sexy days and nights to persuade Jude to open her heart and trust in him, and to rediscover the loving spirit of Christmas.
UNWRAP ME also contains:
"Naughty Noelle" by Melissa MacNeal
Being nice has gotten Noelle nowhere so this Christmas she decides to give naughty a try. And there's no one better to practice on than bronzed and blonde Andy Hathaway, who's got a package she can't wait to check out...
"All She Craves" for Christmas by Melissa Randall
Renovating her childhood home in time for the holidays seems impossible until Anita hires Dylan Scott. His body is hot enough to melt snow and he quickly shows her just how talented he is with his tools—and his hands.