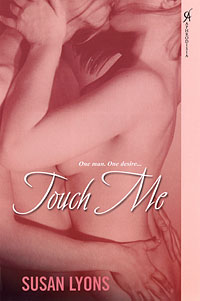 Touch Me
The Story | Excerpt | Praise | Foreign Editions | Behind the Scenes | Discussion Guide (PDF) | Recipes | Buy the Book
Winner:
Aspen Gold Readers' Choice Award for Best Erotic Romance
Golden Quill for Best Erotic Romance
Finalist in:
Beacon Contest, 2nd place
The Maggies
Best Book of the Year (Contemporary Romance), The Romance Studio
Here's what reviewers say about Touch Me
"Hot...Steamy...Erotic! There are no other words to describe the story Ms. Lyons has given us. Watching Ann become a new person is like watching a caterpillar transform into a butterfly. It is truly amazing. I sympathize with Ann wanting to please her mother and root for her to make the changes that are necessary for her happiness. True happiness is within all our grasps, Ms. Lyons shows us that all we have to do is reach out for it and we can have it. An exceptional read and the sex scenes just add quality to the story."
–Liadan, Coffee Time Romance
Read the full review
"Ms. Lyons has written a fabulous book about a woman's life, her stress, and her needs. Adonisyes that's his real name is a sexy, laid back hero. Touch Me is definitely a tale of opposites attracting and the sparks it can cause."
– Sammi Wilde, Romance Divas
Read the full review
"Passion, emotion, and life lessons are the highlights of Touch Me. Ann is an admirable woman who has a lot to learn about herself and her priorities in life. I laughed, I cried, I cheered her on like a beloved friend as she made the arduous journey to discovering the woman she was hiding all this time. Revisits with friends from previous books added extra depth and fullness to Ann's story, though Touch Me is thoroughly a stand-alone book. Adonis is the man every woman holds up as a perfect example of the Greek God; warm and loving, sensual and chivalrous. He is the embodiment of the true-to-life romantic hero. The passion between Ann and Adonis is explosive, but romantic in every aspect. Their journey from passion to love is realistic and emotional and a story that is not soon forgotten. Author, Susan Lyons has raised the bar for erotic romance with Touch Me. Bravo, another addition to my 'keeper' shelves."
– Lettetia Elsasser, SingleTitles.com
Read the full review
"Touch Me is a story about growing up and away, learning what we want versus what we need out of life, and sometimes life throws us curves and we have to adapt. I love the way the author builds her characters, exposing their flaws while at the same time, showing their strengths. She makes you understand what drives each character. The growth of the hero and heroine is very natural and believable. This book will definitely make you want to slow down and smell the roses, preferably with your own Greek God!"
– Lisa Freeman, The Romance Studio
Read the full review
"Ms. Lyons has penned a fascinating novel about romance, and friendship... Touch Me is a fantastic book. Kudos to Ms. Lyons.
– Amelia, Joyfully Reviewed
Read the full review
"Ms. Lyons did it again; she delivered with TOUCH ME another fantastic story. The story is full of sensual tension and steamy encounters between the hero and the heroine. This book will absolutely captivate you from the first page and you will not be able to put it down until the last page Typical for a book by Ms. Lyons is that she always has wonderful unique characters with whom the readers can easily identify and another typical element is the message that she includes in each of her books. The message in TOUCH ME is that the whole life is not about only work and control, but that you also have to learn to enjoy your life. "
– Danny, Loves Romances and More
Read the full review
"Here, the chemistry is extremely flammable between these two characters. The conflict is intense, as their worlds seem so far apart. In the end, they come together in a very passionate and sexy relationship that sets the pages on fire!"
–Thia McClain, The Romance Readers Connection
Read the full review
"This delightful fast-paced erotic romance was a great read!"
–Christy H, Book Reporter
"This is a tantalizing, erotic and fun read that you would definitely enjoy."
–Priscilla Petty, Night Owl Romance
Read the full review
"Wow, this is another top notch story from Susan Lyons about four girlfriends living and loving in Vancouver... TOUCH ME is an unforgettable story, with its description of tantric sexual techniques and its depiction of how sometimes it isn't about being rich and successful, but about enjoying life to the fullest. I loved TOUCH ME and adored Ann and Adonis and hope to see them married by the end of Rina's story. That's a hint, Ms. Lyons! For these reasons, TOUCH ME richly deserves a La Grande Mort from this reviewer. Just be sure to grab plenty of ice."
–Holly Tibbs, Romance Reviews Today
Read the full review
"Holy orgasms bat man! TOUCH ME is sure to do just that for the female population... Both Adonis and Ann had lessons throughout the story to teach one another. This only added to the amazing plotline. Of course, the sex was amazing, if I haven't stated so already. I love stories that take two people that are not necessarily a match and it somehow ends up working out. Susan Lyons did a wonderful job of making this happen. This is my very first Susan Lyons story and I am without a doubt hooked on her now."
–A Blue Ribbon Review from Amanda Haffery, Romance Junkies
Read the full review
"...three quirky, opinion-filled friends, one hot massage therapist (with a touch for the tantric) and the heroine's laugh-out-loud inner monologues. Lyons creates page after sensual page of unique touch, taste and locale with some 'hot monkey sex' thrown in. Look to be turned on from start to finish."
– Jennifer Madsen, Romantic Times Book Reviews
"Ms. Lyons has another winner with Touch Me the latest in her Awesome Foursome series. Reading the other books is not required because the author provides the right background to the story. Ann's character is a textbook type A personality. Her character is not in touch with herself and she is closed off to possibilities beyond work. Adonis character is so in touch with himself, the environment and the world that you cant imagine anything bothering him. Yet his character also faces challenges in living up to his family. The plot proceeds at an excellent pace as the characters lead the reader on a voyage of discovery of themselves and their relationship. The setting in beautiful Vancouver comes through in Ann and Adonis adventures. The sex from the first moment they meet is hot and sticky, just the type to keep me interested in the story but not so much it overwhelms it. Ann definitely gains more with learning about sex with Adonis and it makes for some excellent loving making between the two characters. The secondary characters are great with each adding their piece to the story yet none steal the show from Ann and Adonis. Don't miss the driving sexual heat, the characters relationship, the sweet love and the beautiful setting in Touch Me."
– Julie Esparza, Just Erotic Romance Reviews
"Ann and Adonis have instant chemistry but they are two TOTALLY different people. And that's where the fun comes in. Seeing the ambition driven Ann try to get "hot Monkey sex" out of the tantricly trained Adonis while he tries to slow her down so he can enjoy her is hilarious! Add in the ever-present mother-voice in Ann's head that is usually at odds with everything Ann wants and you've got a very funny book with some seriously hot sex. And hey, I wish I could have been there to see Ann's eyes pop out of her head when Adonis informs her that two hours isn't nearly enough time to schedule for good sex! I'm becoming a serious fan of the Awesome Foursome!"
– Sassy Fontaine, Rites of Romance Reviews
"I had a lot of fun watching Adonis work on Ann. Not only was she a driven woman, but he also had to contend with a lifetime of childhood doctrine about how Ann wasn't good enough, smart enough, or pretty enough. I hurt for her a number of times while reading her mothers influence and it made me realize how dangerous words really can be. The fact that Adonis came with his own baggage made this book that much better. A perfect man is all good and fun, but not even close to real, but Ms. Lyons did a phenomenal job in creating a man that was gorgeous yet flawed in his own way to balance the enigma that Ann could be at times. I enjoyed this book and will continue to look for Ms. Lyons books in the future."
– Serena, Fallen Angel Reviews
Read the full review
"Having read the second book in this series, I had high expectations for this instalment. I wasn't disappointed in the least. Once again, Susan Lyons demonstrates her ability to write a superb love story."
– Lindy, Two Lips Reviews
Read the full review