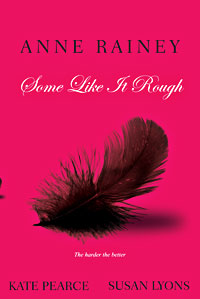 Private Eyes in Some Like It Rough
The Story| Excerpt | Praise | Behind the Scenes | Discussion Guide (PDF) | Recipes | Buy the Book
BEHIND THE SCENES
This novella was a challenge for me, in a couple of ways: coming up with the story idea in "hey, presto" fashion when I was exhausted, and then researching the fascinating world of exotic dancers.
To take you back to the beginning… I was busily finishing a book, really pushing hard to meet the deadline because a few unexpected things had slowed me down. I knew my agent and editor were supposed to be talking about the possibility of me doing a novella for an anthology, but they weren't connecting, and I didn't have time to worry about it. Well, on the day the book was due, when I was finishing reading the entire manuscript out loud and inputting edits, I got an email from my agent confirming that my editor was inviting me to contribute to a contemporary anthology with Kate Pearce and Anne Rainey. I emailed back something like, "Yes, please!" then got back to inputting final edits.
Later that day, as I was nearing the finish line and looking forward to drinking a few glasses of wine, taking a bubble bath, and totally collapsing, my agent forwarded a note from my editor saying, "Wonderful news—thanks! Please have Susan send me her story title and one paragraph description asap."
Uh . . . What story? She thought I had a story idea? Nope. And to me "asap," from an editor, means "you have overnight if you're lucky."
Except, I was exhausted. For the last days, even weeks, I'd been working to that deadline, telling myself I could collapse when I made it. And now I had a new deadline!
What to do? Panic and email my co-authors in the new anthology. Along the lines of, "What the hell are you ladies writing, because I have to find something that fits the theme of the book?" The talented and gracious Kate Pearce and Anne Rainey promptly shared their novella concepts with me. I said, "So does it look like the theme of the book is 'kink that turns your crank'?" They said yes.
Okay, then it was time to get back to the book I was writing and submit it on deadline. Next, breathe deeply, stretch, drink a glass of wine, pour another and take it back to the computer and . . . what else but Google "kinky sex." Yes, seriously.
I'm not exactly known for writing kink, but Kate and Anne were writing BDSM, ménage, and sex toys. I couldn't go "plain vanilla" this time around!
I also pulled out my Nancy Friday books on female fantasies. And when I read that exhibitionism is a common fantasy, and something that can be empowering to women . . . Well, empowerment is a magical word. So, I decided on an exhibitionist heroine, which meant a voyeur hero.
And then, all I had to do was figure out a story to go along with that concept. Time for another glass of wine. Amazing how exhaustion, urgency, and a few glasses of wine can fuel the muse.
Hayley came to life, then Ry, then the story that brought their romance to life – and I had three title ideas plus a summary to send to my editor. I told her it was a kinky version of Miss Congeniality. (In case you're curious, the alternative titles were "The Naked Truth" and "Private Dancer.")
My editor approved the concept – so then, all I had to do was write the story. Except, I'd made Hayley a buttoned-up admin assistant at a PI agency, who goes undercover as an exotic dancer. And, uh, I knew nothing about exotic dancers.
So, I had some research to do. Books got me started, then I interviewed dancers, attended strip shows, and my research culminated in … being a judge at a rookie stripper competition! Yes, that world took me out of my comfort zone, but what I found out is –and this should be no big surprise – dancers are just like any other women. In fact, they have a lot in common with romance writers. They're in a profession where they work hard, have a lot of laughs together, get little respect, and are in general underpaid. Yeah, I actually felt right at home. And no, I did NOT get up on stage and strut my stuff! My heroine Hayley is a much braver – and younger! – woman than I.
I loved writing Hayley and Ry's story. I hope you have as much fun reading it as I had writing it.