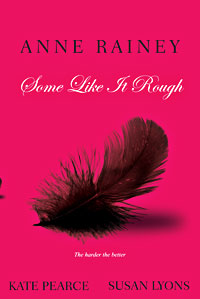 Private Eyes in Some Like It Rough
The Story| Excerpt | Praise | Behind the Scenes | Discussion Guide (PDF) | Recipes | Buy the Book
New (2013) cover
THE STORY
"Private Eyes" by Susan Lyons
Assigned to work undercover as an exotic dancer, straight-laced Hayley Croft discovers the thrill of strutting her stuff. And when she catches sexy PI Ry Montana checking out her moves, she can't wait to give him his own private show...
SOME LIKE IT ROUGH also contains:
"Some Like It Rough" by Kate Pearce
Luke Warner wants to chill out when he cashes in his hectic life in Silicon Valley and returns to his hometown. But things heat up when he reunites with his best friends, Julia and Paul, and invites them both to share in a sexual adventure like they've never had before...
"Cherry on Top" by Anne Rainey
When massage therapist Cherry DuBois rubs her oil-slicked hands all over Dante Ricci's rock-hard body, red-hot desire courses through her. She longs to lose control and give herself to the pleasures of sexual submission…