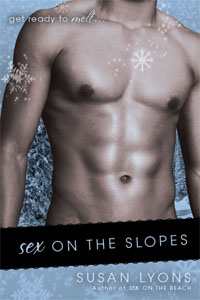 Sex On The Slopes
The Story | Excerpt | Praise | Behind the Scenes | Discussion Guide (PDF) | Recipes | Buy the Book
Here's what reviewers say about Sex on the Slopes
"Lyons' British Columbia-set stories are sizzling, each with a loving plot. You'll enjoy watching the characters navigate through instant attraction to something lasting after being brought together in time for another happily ever after."
–Sabrina Cooper, RT Book Reviews
"Great stories, believable romantic development, and hot passion--this book's got them all! … Even in the short length of each individual stories, Ms. Lyons was able to portray her usual wonderful characterization and character development. Each of the main characters was wonderfully unique, and each grew and changed over the course of the story, coming to some realization about his/her previously held concept or belief."
–Shana Rea, The Romance Reviews
"From Sex on the Beach in Belize to Sex on the Slope of British Columbia, Susan Lyons makes wedding parties heat the sheets. Her three erotic romances set in a Winter Olympics environ are so hot the snow must have melted. From lust to love, the three couples make for a torrid trip for the armchair traveler."
– Harriet Klausner
"Three smoking hot tales revolving around a wedding taking place at Whistler during the winter will have readers reaching for a cold drink to cool down. Maybe one of the recipes provided in the book will help do the trick… It's really hard to say which of the three tales in SEX ON THE SLOPES is my favorite. Fire and Ice, Slippery Slope and In Hot Pursuit of a Bad Boy are all sexy, scintillating reads which were hard to set down. Susan Lyons has once again proven that she knows how to entertain readers and write sexy hot stories. For this reason, I'm awarding SEX ON THE SLOPES one of RRT's coveted Perfect 10 awards. It's a book I highly recommended to anyone who likes sizzling contemporary tales that are filled with passion and riveting plots."
– Holly Tibbs, Romance Reviews Today
"SEX ON THE SLOPES is hot enough to warm you up on a cold winter night with delicious characters and endless charm. A great read!"
– Mandy Burns, Fresh Fiction
"I was completely blown away at how Ms. Lyons connected each section together, bringing each couple to the forefront for their own hot sex and love story. It was amazing how the story flowed from one section to the other almost like reading a series only better, because everything was wrapped up in one big read. What make Sex On The Slopes a Best Book to me was the details played out in the plot and how each section blended together like a well made drink. Added bonus is all the mix drink recipes scattered between chapters. Truly a book well worth reading and adding to your permanent library -- one that I am excited to recommend to all my friends as a must read."
– Myrtle, Whipped Cream
Finalist in:
The Lories (3rd place)
Book Buyers Best
"SEX ON THE SLOPES is absolutely enchanting with charming characters and an engaging premise. Hold a wedding in gorgeous Whistler, British Columbia during ski season, invite a number of interesting guests and you have a perfect theme for a book. In the capable hands of Susan Lyons, this gifted author superbly interweaves all three novellas to create passionately rousing stories overflowing with stirring sentiments. The characters are endearingly appealing in SEX ON THE SLOPES, where emotions run high and passions soar higher. This is definitely a story where I truly want the main couples to actually exist."
–Amelia, Sensual Reads
"Sex On The Slopes has a different meaning for the three couples but each has their own issues to work on and not only on the slopes. A lot of sizzle in the snow!"
– Pat Marchant, ReaderToReader.com
"I loved this book for many reasons. One, you got to see six different people coming together and falling in love and all that the characters went through to achieve their goals. It was like three short stories that all came together in one ending. Another reason hot, hot, hot, the stories kept me intrigued and the romance were burning up the pages. Ms. Lyons is an amazing storyteller and I cannot wait to read her next book."
– Annette, RomFan Reviews
"SEX ON THE SLOPES is an intriguing, well-written anthology by Susan Lyons that is set around a vacation wedding in Whistler, British Columbia."
– Lynette, Kwips & Kritiques