What happens when a woman with body image issues contacts her first love, remembering a gawky boy, then discovers he's turned into a total hottie?
Music is Rina's passion and she's never forgotten the sensual rhapsody she experienced with pianist Giancarlo. Ten years later, he's a gorgeous music video producer whose masterful fingers still create an intimate melody of pleasure.
Rina wants a full encore of passionate sex, so long as Giancarlo sticks to her rules: to only make love with the lights off so she won't feel self-conscious about her ultra-curvy body.
But her Italian lover has a different agenda. He's determined to bring Rina into the light, convince her to love her body the way he does, and give her a glorious, unforgettable climax.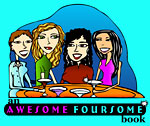 The Awesome Foursome Series
1. Champagne Rules
2. Hot in Here
3. Touch Me
4. She's on Top
Join four 20-something girlfriends who laugh, cry, bond — and each find a very sexy romance.
The Awesome Foursome have their own martini! Want the recipe?
The Awesome Foursome series is set in Vancouver, BC. Explore the Foursome's Vancouver in Susan's article, Awesome Vancouver.
The Foursome receives an A+ series review from The Good, The Bad, The Unread reviewer, limecello:
"Ever finish a book, where after you bask in the afterglow of the ending, you want to jump up and make everyone you know read it? If you haven't, or are looking for more, have I got four (yes four) suggestions for you! The books Susan Lyons writes are sexy, smart, and have real humanity. I read each of the Awesome Foursome books in 1-2 sittings, staying up til 4 AM to finish them. . . My only complaint about the series is I wish it were longer. . . There's so much to each story a simple review doesn't do it justice, there's a depth and complexity to Ms. Lyons' writing that few authors achieve with such effortless and engaging prose."