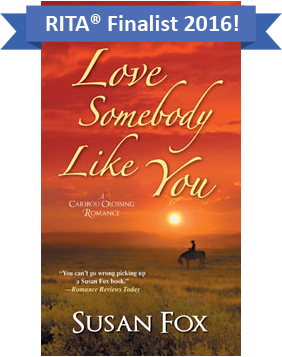 Love Somebody Like You
The Story | Excerpt | Praise | Behind the Scenes | Discussion Guide (PDF) | Recipes | Buy the Book
Winner:
National Readers Choice Award
Finalist:
Romance Writers of America's RITA®
Booksellers Best Award
Golden Quill
Here's what reviewers say about Love Somebody Like You
"Fox's engrossing fifth Caribou Crossing contemporary (after Love Me Tender), set against a captivatingly horsy rural British Columbia backdrop, opens with 30-something widow Sally Ryland, a former barrel racing champion, at rock bottom. The riding school she runs is in financial trouble, her assistant is gone, and her emotional wounds are still throbbing from her devastating marriage to the archetypally abusive Pete, whose fatal heart attack sent her into lingering spasms of guilt. When handsome Ben Traynor, a bronco rider from Sally's happy competition days, unexpectedly comes calling, he decides to stay and help her with the heavy demands of her school. His concern, sensitivity, and growing attachment gradually ease her out of her three-year self-imposed seclusion and her shattering fear of men. Ben has his own troubles: a shoulder fracture has temporarily grounded him from the rodeo circuit he loves, and even though he immediately feels drawn to Sally, he's not sure he's good enough for her. Amid their simmering mutual attraction, Fox works in convincing flashbacks of Pete's excruciating abuse of Sally, as well as snippets of rodeo life that bring the allure of the "confident and purely male" bronco rider to vivid life. The reader knows exactly what Sally needs so desperately—kindness and understanding—and Fox provides it with the gentle touch that makes her romances especially endearing."
– Publishers Weekly
"In Fox's latest, charming cowboy Ben and vulnerable widow Sally's sweet romance brims with a growing passion as both reveal their hearts to each other. With heartfelt, modern storytelling and genuine characters set within a touching plot, Fox pens a tender story of love and healing that will melt readers' hearts."
– RT BookReviews 4 1/2 stars
"Fox's portrayal of spousal abuse is stark and edgy, taking the reader behind closed doors where Sally's nightmarish marriage unfolds. Ben is a godsend, gently coaxing Sally out of her prison of fear, loneliness and shame. Along the road to their mutual recoveries he finds the love of his life. But has Sally found hers?"
– Sandra Van Winkle, ReadertoReader.com <
"This story definitely stands alone and is definitely a story that any contemporary western romance lover wants to read. The story is sweet and sexy as Sally and Ben work through what they really want in life. The characters evolve as the story progresses and their lives change as well… Totally awesome!... I can't recommend this story enough!"
– Terri, Night Owl Reviews, a Top Pick
"I just cannot say enough good things about Sue Fox for writing this book and doing so the way that she did. Yes, it is fiction and yes, it is a wonderful second time around romance but it is so much more than that. Her writing makes these characters oh so real and complex, feelings, warts and all. And it was not at all clear if we were going to have a HEA or a HFN right up until the end and that is hard to do. She used good wording to get across both the good and the bad - both physical and emotional. And above all, she wrote about a highly relevant and socially important subject and did it well. I would give her a thousand stars for that if I could."
– Liberty Ann Ireland, Cowboys 'n Country
"Susan Fox has a knack for creating particularly likable characters and putting them in circumstances where emotions are intensely expressed with believably. LOVE SOMEBODY LIKE YOU is an unforgettable book about falling in love."
– Amelia Richard, Single Titles
"The passion and emotion in LOVE SOMEBODY LIKE YOU is intense and real... A riveting tale from the start, fall in love with Sally and Ben in LOVE SOMEBODY LIKE YOU."
– Patti Fischer, Romance Reviews Today
"Domestic abuse isn't an easy topic, but Susan Fox handled it beautifully. Love Somebody Like You is a wonderful story about defeating the demons holding you back, learning to trust again in not only the people around you but yourself as well, and opening yourself up to possibilities that you didn't believe were possible. It's about hope for a better future after suffering through a heartbreaking past. It's definitely worth reading."
– Harlequin Junkie
"This is a wonderful story that is very well written with a great pace. The characters are down to earth, and completely lovable... I have no hesitation in recommending it highly."
– LibriAmoriMiei
"Emotional read about a woman who still suffers the effects her abusive marriage... Domestic abuse is a hard topic to talk about and I think the author did a wonderful job of incorporating into the story."
– Jen's Reading Obsession
"An altogether sweet and enlightening read. Definitely for the romance reader who likes those sweet ones, and watching broken characters find a way to mend."
– Mignon Mykel Reviews
"This is a beautifully written story, that touched my heart. The difficult subject of spousal abuse, domestic violence is dealt with respect and dignity to the victim... But the story is not just about the darker sides of the life, there are moments of pure beauty, softly uplifting. Because life is not only about fear of survival or mucking the stalls, sometimes it is watching the sunset together, dancing in the kitchen, or picking wildflowers on the pasture, cause love and being truly alive wins..."
– Books and Spoons
"[Sally] went from a smashed flower to a bright, full bloomed flower. Ben was just absolutely perfect! This book was emotional and heart-warming. This is the kind of book that anyone can enjoy and learn something from."
– A Girl and Her Books
"What happens in this story is the releasing of pain...Our fella figures out something happened to this bright shining star of a gal... and little by little he helps her re enter the world. It is done tastefully with care and concern. There are passages which others who may have experienced similar situations would identify. I think it was handled well... It was a journey to read and I was impressed with how it all played out."
– Star Angel Reviews