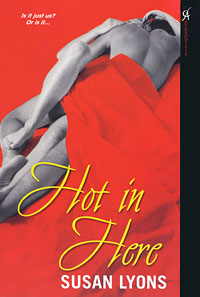 Hot In Here
The Story | Excerpt | Praise | Foreign Editions | Behind the Scenes | Discussion Guide (PDF) | Recipes | Buy the Book
RECIPES
Jenny's Egg Rolls
Jenny freezes these. When she wants a quick lunch, she pops them in the toaster oven for a few minutes.
(Note: This recipe is for shrimp and pork egg rolls; you can substitute other fish/meat or make them vegetarian.)
Ingredients (for 16 egg rolls):
egg roll wrappers
1/2 lb. raw shrimp, finely diced
1/2 lb. finely ground lean boneless pork
1/2 lb. fresh bean sprouts, washed, drained and patted dry
3 tbsp. sesame oil (or peanut or olive oil)
3 medium fresh mushrooms, cut in 1/4" slices
1 tbsp. soy sauce
1 tbsp. Chinese rice wine (or pale dry sherry)
2 tsp. salt
1/2 tsp. sugar
4 c. finely chopped celery
1 tbsp. cornstarch dissolved in 2 tbsp cold chicken stock (or water)
1 egg, lightly beaten
3 c. flavourless vegetable oil or peanut oil
Heat 1 tbsp. oil and stir-fry pork quickly until it loses its reddish color. Add soy sauce, rice wine, sugar, shrimp and mushrooms and stir-fry another minute. Transfer to a bowl and set aside.
Heat 2 tbsp. oil in the same pan and stir-fry celery for 3-4 minutes. Add bean sprouts and salt nad stir. Return the shrimp/pork mixture to the pan and stir to combine. On moderate heat, cook, stirring, until liquid begins to boil. You want to have 2-3 tbsp. of liquid in the pan. If there's more, discard some. If there's less, add a little chicken stock or water and heat. Add the cornstarch/stock mixture and stir until the liquid thickens and has a slightly glazed appearance. Transfer to a bowl and cool to room temperature.
To assemble the rolls, shape some of the mixture (quantity depends on the size of the wrappers) into a roll shape. Place it diagonally across the wrapper. Lift the bottom triangle over the filling and tuck the point under the filling. Bring up the left and right triangles up to the top of the filling and press down. You will now have one triangle-shaped top flap that has not yet been folded. Brush it with lightly beaten egg and then fold it over the roll and secure the point under the roll. Place the assembled rolls on a tray and cover with a dry dish towel. (If you want to keep them more than half an hour before cooking, cover with plastic wrap and refrigerate.)
Pour 3 c. oil into a wok or deep fryer and heat to 375 degrees. Cook the egg rolls in batches of 4-6, for approx. 3-4 minutes, until crisp and golden brown. Transfer to doubled paper towels and let the oil drain off.
Scott's Mom's Sauerbraten
Scott's German mom loves cooking traditional "stick to your ribs" meals for her family.
Ingredients:
4 lb. boneless beef roast, preferably bottom round

3/4 c. dry red wine
3/4 c. red wine vinegar
2 c. cold water
1 medium onion, sliced thinly
1 tbsp. black peppercorns, crushed coarsely
1 tbsp. juniper berries, crushed coarsely
2 medium bay leaves
1 tsp. salt
2-3 tbsp. sauerbraten spice (optional)
3 tbsp. butter or lard
1 1/2 c. onions, finely chopped
1 1/2 c. carrots, finely chopped
1 c. celery, finely chopped
2 tbsp. flour
1/2 c. water
2/3 c. gingersnap cookie crumbs
Combine wine, vinegar, water, onion, peppercorns, juniper berries, bay leaves and salt in a 2-3 quart pan and bring to a boil over high heat. Remove from heat and cool to room temperature. Place beef in a deep pot or bowl, just big enough to hold it. Pour marinade over the beef; it should reach at least halfway up the sides of the roast. (Add more wine if necessary.) Cover tightly with plastic wrap or foil. Marinate for 3 days, turning the meat in the marinade at least twice a day.
Remove meat from marinade and pat dry with paper towels. Strain marinade and reserve liquid. In a heavy 5-quart casserole, melt butter/lard then add meat and brown evenly on all sides. Remove meat from casserole. Add chopped onions, carrots and celery to the casserole the meat cooked in and cook over moderate heat 5-8 minutes until soft and light brown. Sprinkle flour over the vegetables and cook 2-3 minutes longer until the flour begins to color. Pour in 2 c. of reserved marinade (don't discard the rest as you may need it later) plus 1/2 c. water and bring to boil over high heat. Return the meat to the casserole, cover tightly, reduce heat and simmer for 2 hr. (or cook in a preheated 350 degree oven for 2 hr.) until the meat shows no resistance when pierced with a sharp knife.
Transfer the cooked roast to a heated platter and cover it with foil to keep it warm. Make the sauce by pouring the liquid left in the casserole into a measuring cup and skimming the fat. You will want 2 1/2 c. of the wine/vegetable liquid (if you don't have enough, top up from the reserved marinade). Combine the liquid with the gingersnap crumbs in a saucepan and cook over moderate heat for approx 10 minutes, so the crumbs dissolve and thicken the sauce slightly (add more crumbs if you want the sauce thicker). Strain the sauce, pressing down hard to force as much of the vegetable/crumb mixture through the sieve as possible. Return the sauce to the pan, adjust seasoning if desired, and simmer until ready to serve. Slice the roast, pour some sauce over the slices on the serving platter, and pass additional sauce.