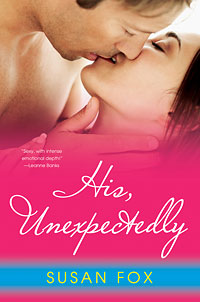 His, Unexpectedly
The Story | Excerpt | Praise | Foreign Editions |Behind the Scenes | Discussion Guide (PDF) | Recipes | Buy the Book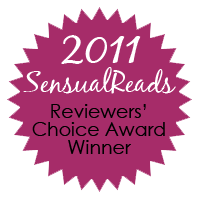 Winner of the 2011 Sensual Reads Reviewers' Choice Award for contemporary romance!
Here's what reviewers say about His, Unexpectedly
A starred review from Publishers Weekly and one of PW's Top 10 Romances for Spring 2011
"Fox (Love, Unexpectedly) delivers a contemporary love story sure to make readers go weak in the knees. Jenna Fallon is driving up the California coast on her way to her sister's wedding when she meets Dr. Mark Chambers, marine biologist, at a roadside diner. While both hail from academic, overachieving families, Jenna has chosen the life of a wandering free spirit while multifaceted Mark works to save the earth from the back of his bumper-stickered camper. It's hard for Jenna to take any man seriously: "It was fun to rattle his scientific cage, fun to tease him away from being so conservative and rule-bound." Will the gorgeous hippie realize her sexy "square" could be more to her than a mere hookup? Well-crafted story lines and richly observed characters bolster a strong erotic element in this delightful, memorable romance."
– Publishers Weekly starred review
"In this lighthearted and entertaining story, the third Fallon sister, free-spirited Jenna, finds a mate… Readers will be rooting for these two characters to get together and make it work."
– Joyce Morgan, RT BookReviews
"Do opposites really attract? And if they do, what makes the couple stay together if each person in the relationship is so totally different? Susan Fox provides the best answers I've ever read in a romance novel to explain how this happens and how this fragile glue binds the lovers."
– Pat Henshaw, All About Romance
"HIS, UNEXPECTEDLY is a great read. I loved Jenna and Mark as characters, they were such different creatures, but they were able to respect each other as individuals and learn to work together as they made their way up the coast to Canada. Usually with romance novels there is one person who has a deep seated issue that they need to resolve before they can enjoy their happily ever after, that was not the case inside HIS, UNEXPECTEDLY. I really enjoyed that both Jenna and Mark each went through a full character arc and while their journey to awareness took different paths, it was a full journey that made me completely believe in their happily ever after once I closed the pages…. Whether Ms. Fox is writing under Susan Fox or Susan Lyons…she's a must read author for me."
– Lynette, Kwips & Kritiques
"My first reaction after I finished HIS, UNEXPECTEDLY was that I liked this story…a lot. My feelings haven't changed. Written in both first person (Jenna's view) and third person (Mark's view), readers will get an interestingly deep insight into the characters of Mark and Jenna, until they seem like people you know. You'll come to care for them and hope they get together. In the end, it's a case of compromise rather than one changing to please the other, yet, both Mark and Jenna do change. A couple who knowingly began a "no strings attached" sexual relationship grew to care for each other and discover the magic of falling in love… Blistering hot love scenes combined with sizzling prose makes HIS, UNEXPECTEDLY a book you won't want to put down. A terrific, riveting book I highly recommend it for readers who love sexy hijinks and characters finding love unexpectedly."
– Holly Tibbs, Romance Reviews Today

Finalist in:
Write Touch Contest sponsored by the Romance Writers of America, Wisconsin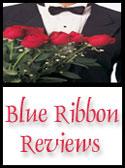 "While each of the stories in the WILD RIDE TO LOVE series have been wonderful in their own rights, I do believe HIS, UNEXPECTEDLY contains the most captivating and emotionally driven storyline so far. On the surface Mark and Jenna don't appear to have much in common but as you learn more about them it becomes clear that they share a certain understanding of the vagabond lifestyle. What really touched me about HIS, UNEXPECTEDLY is the relationship Jenna shares with her parents and sisters. In a family of overachievers, she doesn't feel like she's as readily accepted as her sisters and she shows this when she tells Mark that with her family it's a "I love you, but…" kind of love. There's a scene where the sisters and their mother sit down and share their real feelings which is very insightful and uplifting. Susan Fox makes a road trip up the Pacific Coast sound absolutely exhilarating – or maybe it's the company – especially if you're traveling companion is sexy as hell and puts so much obvious care into making sure their sexual encounters are highly memorable."
– Chrissy Dionne, Romance Junkies

"The entire story is that wonderful journey into the beginning of a new relationship, the excitement of those first hours together, the passion and uncertainty of that first kiss, the thoughts of the futures, the "am I good enough for this person" pressure but most importantly will they except me for what I am or do they want to change me? The dialogue, the emotion, the passion and the heartache are all real. You feel everything they feel, you experience everything they do and you relate to all that is going on in their minds. … This is that passionate beginning of love to the happily ever after story that we all love to be a part of. Don't miss it!"
– Canterbury Bell, Whipped Cream
"The latest Fallon sister contemporary romance (see Love, Unexpectedly) is a charming tale of two seemingly total opposites falling in love."
– Harriet Klausner
"This series is a must read for the great characters, sweet romance, explosive passion and thought-provoking view on life."
– Shana Rea, The Romance Reviews
"There is a perfect blending of moving emotional issues and blazingly steamy sex in HIS, UNEXPECTEDLY."
– Amelia Richard, Sensual Reads