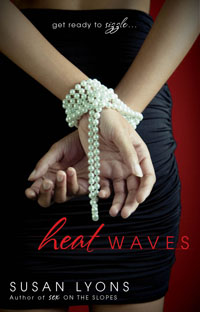 Heat Waves
The Story | Excerpt | Praise | Behind the Scenes | Discussion Guide (PDF) | Recipes | Buy the Book
THE STORY
Get ready to sizzle...
Liz and Peter can't think of a more fun, sexy place to get married than the Greek Islands. And they're not the only ones looking for a steamy holiday, cruising in the sun...
"Rock the Boat"
For widowed wedding planner Gwen Austin, the charismatic Santos Michaelides is the perfect man to help her rediscover herself as a sexy single woman. At least until she finds out there's more to the cruise director than meets the eye—in more ways than she believed possible. In fact, he's an insurance investigator, working undercover to get the goods on one of the passengers. How is control-freak Gwen going to cope when she discovers Santos has the potential to mess up the wedding—and mess with her heart?
"Making Waves"
When prosecutor Kendra Kirk meets up again with Flynn Kavanagh, the sexy IT consultant she'd unsuccessfully prosecuted for white collar crime, sparks of all kinds fly. When he professes his innocence, she believes him and soon they're lovers—secret ones, because if her boss ever found out, she'd be seen as sleeping with the enemy. Kendra's job is the most important thing in her life, so what will she do when she learns the truth about the crime and must choose between work and love?