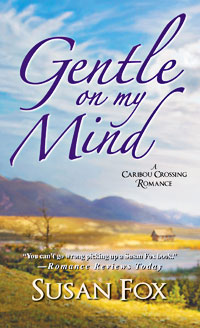 Gentle on my Mind
The Story | Excerpt | Praise | Foreign Editions | Behind the Scenes | Discussion Guide (PDF) | Recipes | Buy the Book
When I introduced Evan Kincaid's mother Brooke in Caribou Crossing, I had great plans for her. I absolutely love a seriously flawed person who redeems herself, and that is Brooke's story.
She was a terrible mother. The woman who appears twenty years later in Home on the Range would be the first to admit that. But when Evan was a child, Brooke didn't know she had bipolar disorder, and perhaps that disorder kept her from realizing that she was an alcoholic. She loved her son, but at the time her own misery, abusive marriage, and illnesses seriously impaired her parenting skills.
Evan couldn't wait to get away from her and from Caribou Crossing, which he did when he was seventeen. I couldn't wait to bring him home ten years later to confront his past, which happens in Home on the Range. At that point, he hears that his mother has turned his life around, but until almost the end of the book he's too bitter and hurt to go and see her.
But then he does, in one of my favorite scenes in that book. I love the honesty and tenderness between Evan and Brooke, and the seeds they sow toward building a new future.
I couldn't wait to move ahead with Brooke's own story, to test her new strength and to send her romance. She's a woman who structures her life carefully behind her white picket fence. Order, stability, AA meetings, her job, her family, her cat, her garden—those make up her life and it's a happier life than she ever believed she'd have. After a horrendous first experience with love (with Evan's father), she doubts it will ever happen again for her. Though maybe, many years down the road, with a calm, stable man, it might just be possible.
Well, of course I wasn't going to send her a calm, stable man! Brooke deserved far more than that, so I gave her a sexy undercover cop on a Harley.
When his bike shatters her white picket fence, Jake shatters her serene, narrow life and things will never be the same for either of them. Well, that's what romance is all about, right?
In many ways Brooke and Jake are opposites, and yet they work beautifully as a team when they set up a new cover identity for him. They also work beautifully in bed! And they challenge each other to dig deep and find new levels of courage and intimacy that they'd never imagined themselves capable of.
Brooke is one of my favorite heroines of all time. She was one of the most flawed—and she evolved into being the strongest. I'm so happy she ended up with an amazing man like Jake.
I've loved writing the first three Caribou Crossing romances and I'm delighted to say that there are three more on the way. If you wonder how things work out with Karen and Jamal, the two RCMP officers who are introduced in Gentle on my Mind, you'll find out in the next story. As for Dave, poor emotionally wounded Dave, the nicest guy in town, don't you think he deserves a very special romance? I sure do, and he's going to get it.
I hope you enjoy reading all the Caribou Crossing Romances as much as I enjoy writing them.
The Caribou Crossing Series